Apple's exceptional WWDC 2020 keynote should be a model for future shows
Apple didn't want to hold this year's WWDC keynote completely online, but when forced into it, the company did an exceptional job -- and so much so that it will be a shame if the 2021 WWDC reverts to a live show.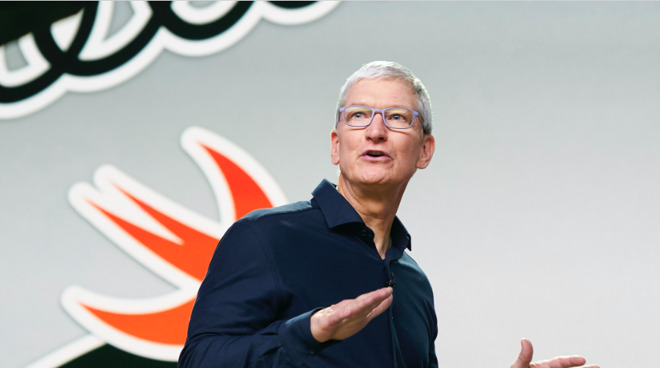 Tim Cook at WWDC 2020
Forget everything Apple actually said in the WWDC 2020 opening keynote presentation about
iOS 14
, and
macOS Big Sur
, and just look at how they said it. The video presentation was extraordinarily well done, and while Apple has not named the writers, producers, directors, or crews of the presentation video, you can bet they are in demand now.
And you can hope that they're having a day off. This was an exceptional production, and that's in every area from technical to editorial. The decision to open with
Tim Cook
taking a seat to talk to us as the
Steve Jobs Theater
lay clearly empty, was precisely right.
It owned the problem of there being no audience because of the
coronavirus
, it faced the issue that another firm, another video team, in or out of the technology industry, might have tried to hide. That opening grounded Apple's presentation, let it talk about serious issues affecting us all, and then having discussed them, that opening let Apple move on.
From a somber and serious start, Apple was then able to boom forward into what it conveyed very well was a torrent of announcements. It had the space to let Kevin Lynch literally dance about the
Apple Watch
, it had room for
Craig Federighi
to make a joke about social distancing, but it didn't stumble at either.
This may be the first time all of these people have been filmed for a presentation, and yet compare it to how late-night talk hosts are still struggling after weeks of lockdown shows. It is very, very hard to present to an absent audience, and every single one of Apple's presenters did it extremely well.
It would be interesting to know exactly what equipment was used, and not just from curiosity over whether it was all iPhone-based. Aside from a very few presenters -- perhaps only Kevin Lynch, and Beth Dakin, manager of the Safari Software Engineering team -- everyone did seem to be too obviously reading from teleprompters.
That sole criticism aside, though, this was truly an extraordinarily well-conceived and well-made video presentation. If you were too caught up in the actual announcements to notice, compare it to one of Apple's somewhat less successful attempts.
The trouble is that if we have never seen the like of this presentation before, we're probably not going to see its like again.
Apple will surely be reviewing how successful it was, and there cannot be any measure by which they conclude it failed. Yet if that would guarantee a sequel to any other production, we are hopefully, not going to be in a full coronavirus lockdown for WWDC 2021.
That fact alone is likely to mean that Apple will return to the buzz of a live auditorium, and the whooping of developers in the Steve Jobs Theater. It's also likely to return to the hands-on, in-person developer sessions throughout the week.
Then even though Apple famously practices and rehearses its presentations extensively, a live event is always quicker to make than a film. There were exactly 20 on-screen presenters, utilizing around 13 locations, and even if Apple used multiple crews, that still meant managing them all, producing them all.
Sometimes there would be cuts to other angles on a presenter that could've been done by having them shot by more than one camera. However, possibly those, and certainly every other change means a new filming set-up. Even with the camera in place, that still requires adjustments to it, rearranging lighting, and possibly rewiring sound before your presenter even says a word.

Four of the 20 WWDC presenters: (L-R) Andreas Wendker, Beth Dakin, Cindy Lin, Craig Federighi
Any production requires this kind of work, but such a finely made film needs each element to be taken painstakingly carefully. And it would under any normal year.
This is no normal year, and while Apple ran no credits for the show, it did end with an extensively-detailed explanation of how the film was made under social distancing conditions.
So be under no illusion that this video was anything but expensive to make, and if a non-coronavirus production would be cheaper, it wouldn't be by much. Apple can clearly afford to spend whatever this budget was, and it clearly appreciates the value of doing it right.
Apple could do this again. Apple actually has many very good reasons to do all of this again.
As we pointed out
, this was simultaneously the least- and the best-attended WWDC ever. If they wanted to, every single developer on Earth could have the same ringside seat as every other one.
That means doing it online ends the old lottery system of who gets a ticket and who doesn't. It completely ends the travel costs for all of those people, pretty much every one of whom then faced high accommodation costs as local hotels raise their prices for the week.
If this were solely about Apple serving its developers, if it were just that direct relationship, the the online version with its video keynote and streaming sessions is the best the company can do. However, it also cuts out developers meeting with each other.
It entirely cuts out the social side of WWDC, and that's not just confined to who gets a pass into Apple Park. There's a whole side industry of developers who come to the area despite not having a ticket.
And then for Apple itself, beyond live adulation in Steve Jobs Theater for two hours, there is one big reason to go back to a live, in-person WWDC. It's possible that the streaming developer sessions turn out to be more effective than they seem, and we'll be talking to developers about that after the show is over. But surely nothing can compare to actually sitting next to an Apple engineer as you try out the new technologies.
Assuming, then, that Apple wants to go back to having developers attend its WWDC week, it is unlikely to sit them down in the Steve Jobs Theater and play a 2-hour movie at them.
Apple's WWDC 2021 may be different to previous conferences, but it's going to go back to the live keynote presentation. You can't blame them, you would surely do the same thing, but this video was so exquisitely well done that you also can't help but hope they'll do it online again.
Keep up with AppleInsider by downloading the AppleInsider app for iOS, and follow us on YouTube, Twitter @appleinsider and Facebook for live, late-breaking coverage. You can also check out our official Instagram account for exclusive photos.