How AirPods & AirPods Pro get even better with iOS 14
Posted:
in iOS
edited June 2020
Apple's iOS 14 and iPadOS 14 are adding new features and abilities to AirPods and AirPods Pro. AppleInsider breaks down everything new, and how Apple is pushing its flagship wireless earbuds even further ahead of the pack.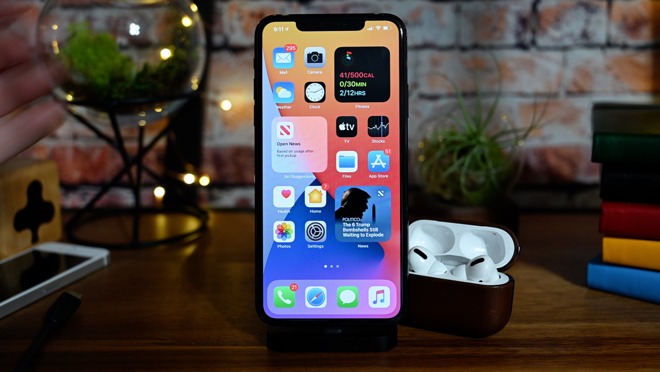 AirPods Pro with an iPhone 11 Pro Max running iOS 14
Of all the new features coming in
iOS 14
, the most headline-grabbing is spacial audio for
AirPods Pro
. This works with 5.1, 7.1, and even Dolby Atmos encoded audio to create immersive sound that goes far beyond simple stereo playback.
So much content is now coming in HDR Dolby Vision video and Dolby Atmos audio these days that it makes sense for Apple to continue to invest in these. Creating 3D sound from a set of headphones isn't easy but Apple took it a step further.
Not only does sound come from in front, behind, next to, and above, but it stays properly oriented based on your movements. AirPods Pro actually monitor the movement of your head, do that when you turn your head, the audio doesn't turn with you, but stays fixed. That way if you look to your left but the iPhone is still playing in front of you, the audio point will stay fixed and sound as if it is coming directly from the actors on your phone.
Your phone or tablet is also monitored, so if you move the device playing the movie around, the audio point will move as well.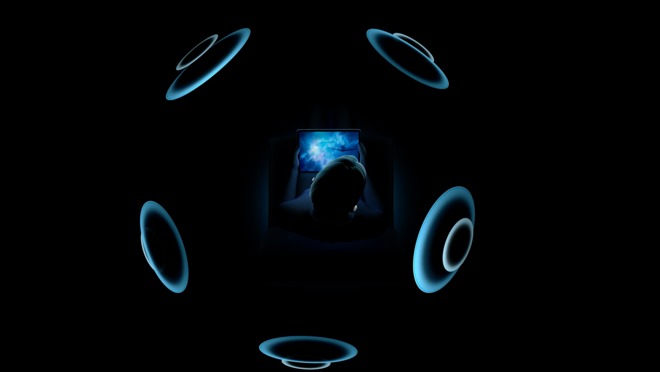 Spacial audio representation for AirPods Pro in iOS 14
This is all opened as a new API that developers can take advantage of so the motion of your head and its relation to the device can be used for games or other apps.
Another major feature is auto device switching. As you finish a podcast on your iPhone, if you pick up your
iPad Pro
and jump into a movie your
AirPods
will automatically jump over. Then you start a Zoom call on your Mac and again your headphones make the move for you. Finally, if a call comes in your iPhone it too will go back to your phone.
AirPods have always been easy to move between devices, but automatic switching will make them even more impressive and elevated above the competition.
Control Center skills
With iOS 14, Control Center is more useful than ever. There are new controls as well as more information presented for AirPods.
To enable the new features in AirPods and AirPods Pro in iOS 14
Open Settings


Then navigate to Control Center


Scroll to the bottom of More Controls to add to your Control Center list


Add "Hearing"


Exit Settings and open Control Center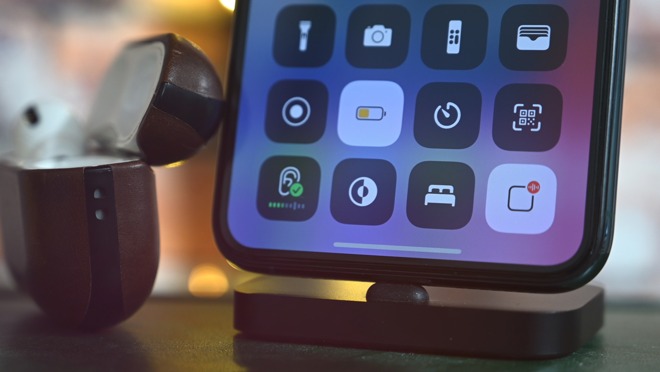 Hearing and Annouce Messages with Siri buttons in Control Center
The first of the new controls is a new toggle for "Announce Messages with Siri" that appears on the Control Center for Apple Watch. Announce Messages with Siri is a more recent feature to iOS that allows you to hear and respond to messages quickly and easily via Siri, negating the need to check your watch or phone when a message comes in. It was first in Control Center on iPhone, and now it is available on Apple Watch as well.
The Hearing control in Control Center has been around, but it now displays the headphone's current volume and how loud it is in decibels and if you should be concerned with how loud it is.
Battery
Knowing and protecting your battery of your AirPods and AirPods Pro is better than ever thanks to iOS 14.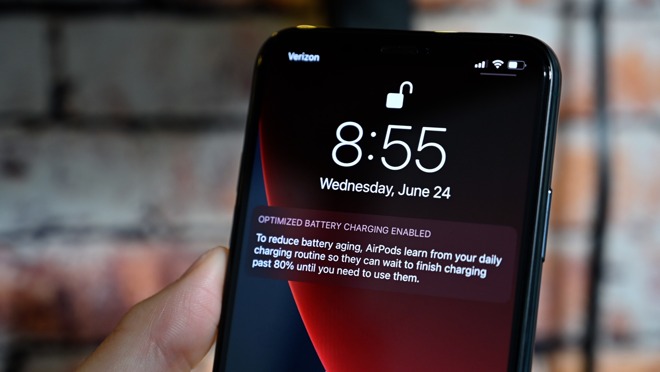 AirPods optimized battery charging notification
Apple is bringing its battery health optimization feature to AirPods for the first time. This feature works for iPhones, Macs, iPads, and Apple Watch and now AirPods as well.
It doesn't need activated but when you start charging your AirPods, an alert will appear that lets you know Optimized Battery Charging is enabled. It reads:
To reduce battery aging, AirPods learn from your daily charging routine so they can wait to finish charging past 80% until you need to use them.
To further aid the battery, iOS will monitor your AirPods battery life and if it sees you have a call coming or expects you to need your AirPods soon based on previous usage and the battery is low, it will alert you that you should charge up soon.
More possibilities
If we explore the accessibility settings, we see additional options open up for AirPods. There is a new Headphone Accommodations option that can be enabled. This can be manually configured to tune audio for a balanced tone, to make vocals more prominent, or to brighten up the audio to make it more clear and crisp. Each of these can also be a slight adjustment, a moderate adjustment, or a strong adjustment.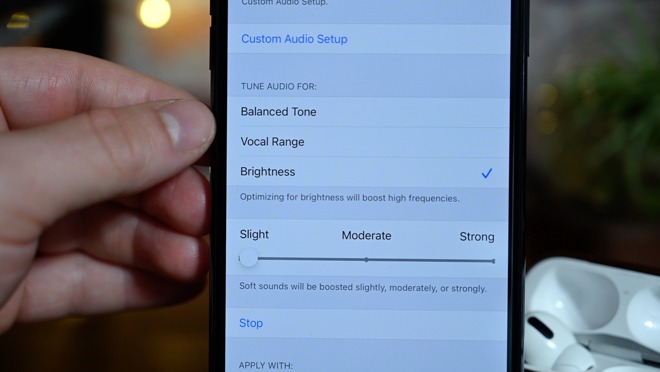 Change the headphones accomodations settings yourself
There is a sample of audio that you can play right from within the Settings app to test these for yourself and you can enable these for calls, media, or both.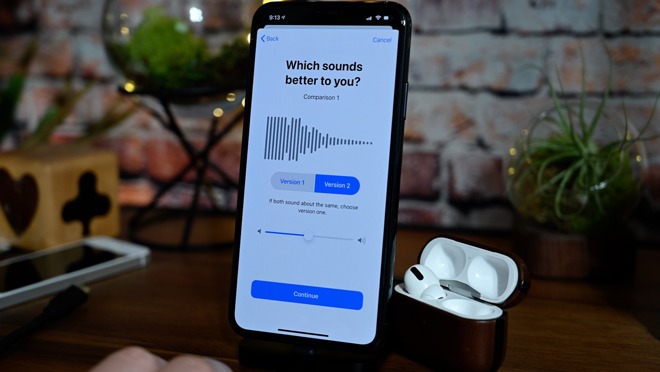 Apple's headphones hearing test
Rather than manually tinkering, Apple has created an automated test as well. Tap on Custom Audio Setup in the accessibility settings and a little test will walk you through various samples to help tune the audio to your ears.
AirPods Pro benefit further by being able to adjust the amount of outside noise that is allowed in while in transparency mode.
Stay tuned to AppleInsider for additional coverage of Apple's new operating systems.
Existing features