Justice Department lawyers are 'scrutinizing' Apple's App Store payment policies
U.S. Justice Department lawyers are reportedly "scrutinizing" Apple platform rules that require developers to use its payment system for purchases.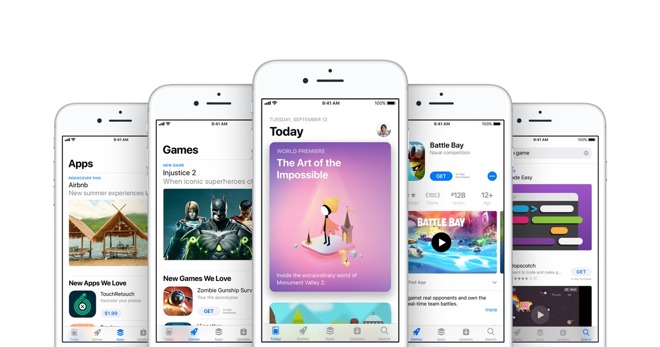 Credit: Apple
In July 2019, the U.S. Department of Justice
launched a probe examining
major tech giants like Apple and Google. For Apple, the investigation centered on its
App Store
and developer policies.
As recently as mid-June, lawyers from the department have met with developers and are inquiring about Apple's specific policies surrounding in-app purchases,
Bloomberg
reported
Friday.
Developers who have spoke with the DoJ were apparently asked about whether Apple's 15% to 30% cut of in-app purchases was too high. At least one said that the scrutiny should be aimed more at the fact that Apple doesn't allow alternative payment systems.
The Justice Department is interviewing both large and small developers, including David Heinemeier Hansson, the founder of Basecamp.
Heinemeier Hansson recently made headlines when he complained that Apple was blocking updates and threatening to remove the Hey email app because of its
lack of in-app subscription options for new customers
.
Apple eventually
approved several new updates
to the Hey app after it implemented an open and free tier to users. Apple SVP
Phil Schiller
has maintained that no changes to
App Store policy are coming after the dispute
, though a new dispute process that allows developers to
challenge specific guidelines
rolled out at WWDC.
The Justice Department has been interviewing developers since mid-2019, though the inquiry is said to be "continuing" and no final decisions have been made. "Most" of the investigation's resources are aimed at Google's advertising business, however.
Apple has been under increasing antitrust scrutiny since 2019 for some of its app ecosystem policies. In a recent interview, Rep. David Cicilline, the House antitrust committee head, called Apple's App Store fees "
highway robbery
."
On Wednesday, the Justice Department and a coalition of state attorneys general were also said to be
planning another antitrust investigation
into Apple's policies. Apple has also faced
antitrust probes in Europe
.