APFS changes affect Time Machine in macOS Big Sur, encrypted drives in iOS 14
Apple is increasing its support for APFS on its computing platforms, bringing the ability to use Time Machine with an APFS-formatted disk to
macOS Big Sur
, while enabling the ability to view external drives using encrypted APFS in iOS and iPadOS 14.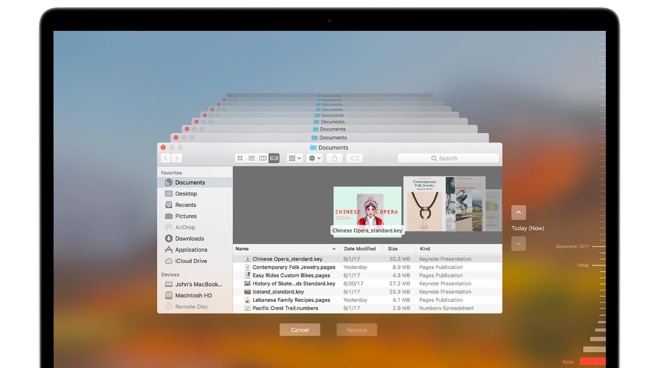 Time Machine in macOS
Introduced
in 2016
, APFS is Apple's forward-thinking file system that it uses across practically its entire device ecosystem. With the introduction of macOS Big Sur,
iOS 14
, and iPadOS 14, Apple will be making it even more useful for users, by adding support for APFS in a few new areas.
On macOS Big Sur, Apple is finally bringing the ability to use an APFS-formatted drive with Time Machine,
9to5Mac
reports
. With macOS Catalina and earlier releases, users were able to back up to an HFS+-formatted disk but not an APFS-formatted version, with macOS offering to reformat the drive to HFS+.
Under Big Sur, users will be able to back up directly to an APFS-formatted drive, eliminating the need to reformat any disks.
Encrypted Drives in iOS 14
For iOS 14 and iPadOS 14, Apple has plugged a hole for external drive support for one specific use case: APFS encrypted drives. While it is currently possible to view external drives in a number of common formats from an iPhone or iPad, it only works for non-encrypted drives, with encrypted drives being unreadable by the mobile devices.
On connecting an encrypted APFS drive to iOS 14 or iPadOS 14, the drive will appear on the updated Sidebar, with a selection of the drive bringing up a password prompt to decrypt it.
The added support for encrypted drives will only work for APFS-formatted drives, which may still be a limiting factor for some users in a multi-platform environment.