Remote source code discovery begins in Apple versus Maxell trial
Posted:
in iOS
edited June 2020
A judge has agreed to special measures in a patent infringement lawsuit between Maxell and Apple, with Apple's source code being supplied to Maxell for pre-trial review.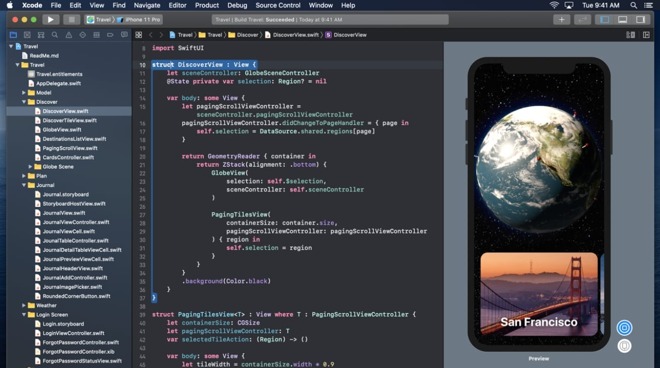 macOS Xcode
The continuing need for social distancing and work-from-home measures caused by the coronavirus seemingly isn't going to impede progress in at least one patent infringement lawsuit. U.S. District Judge Robert Schroeder issued an order on Thursday in
Maxell's patent dispute
to enable Apple to dispatch notebooks to reviewers employed by Maxell, for the examination of source code for some of Apple's software.
The lawsuit, which has been going since March 2019, accuses Apple of infringing ten patents supposedly covering a range of features from walking navigation in
Apple Maps
and Find my Friends to camera design, wireless communication, AirDrop file transfers, ring alerts, power consumption control, device unlocking, and even FaceTime video calls. The products affected by the suit is also similarly varied, including iPhones, iPads, and Macs released up until the 2018 models.
Due to the nature of the lawsuit, Maxell has to review the source code, but the restriction of movement means reviewers can't easily go to Apple's office locations to view the code in a secure manner. The order,
Law 360
reports
, is being made as a temporary measure "to allow discovery of source code in this action to continue while the public health restrictions are in place."
As part of the order, rules are in place intended to maintain as much security around Apple's source code as possible, including storing them in a locked safe or room in reviewer homes, and that the screen isn't visible from "any external window" when the notebooks are in use. The policy will run until September 1, unless the court extends the time available.
Judge Schroeder had previously denied a bid by Apple to shift the venue of the lawsuit from the Eastern District of Texas to the Northern District of California. Schroeder acknowledged Northern California would be a more convenient venue than Texas for both Apple and Maxell's witnesses, but that he only leaned "slightly" towards transferring it.
In response, Apple filed a
mandamus petition
, arguing that the judge's refusal was based on a "series of legal and factual errors in analyzing the factors that govern transfer."