First Apple Silicon Developer Transition Kit benchmarks show Rosetta performance impact
The initial benchmarks for the
Apple Silicon
Developer Transition Kit reveal Apple is very slightly under-clocking the A12Z Bionic chip inside the developmental hardware, with Rosetta 2 also impacting performance.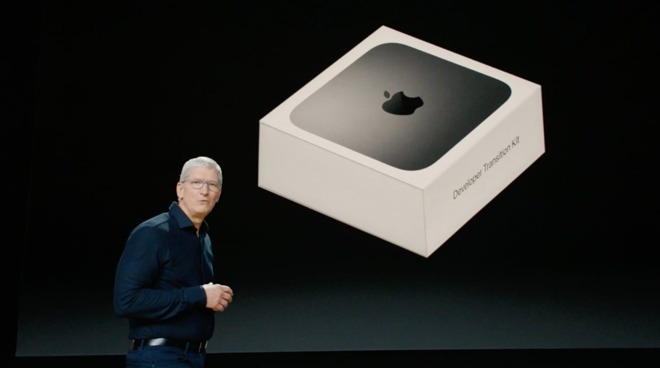 Tim Cook introducing the Developer Transition Kit at WWDC 2020
One week after Apple announced its move from Intel chips to Apple Silicon and the creation of the
Developer Transition Kit
at WWDC 2020, the first benchmarks of the DTK have surfaced. Results found in Geekbench 5's online browser for "
VirtualApple
" reveals systems bearing the name "eperm-d995af6e2ef02771," which is thought to be the identifier for the DTK.
The eight results found and uploaded on June 20 are all listed as having "VirtualApple 2,400MHz (4 cores)" as the processor, referencing the A12Z being used inside the DTK. A full breakdown of the results indicates the device uses "macOS 11.0" as its operating system, and has 16 gigabytes of memory.
In terms of performance, the single-core tests resulted in a range of between 736 and 844 points and an average of 811. For multi-core benchmarks, the range is from 2,582 to 2,962, with an average score of 2,781.
These results are considerably lower than the 1,118 single-core and 4,625 multi-core benchmarks of the 12.9-inch iPad Pro which also uses the A12Z Bionic, but there are a few reasons that could be the case. For a start, Apple is running the A12Z at a slower 2.4GHz in the DTK, instead of the 2.5GHz clock in the iPad Pro line, though at this time it is unclear why this is the case.
Another interfering factor is the benchmark itself. Rather than using a
native
ARM-based app that runs on Apple Silicon, it is likely that benchmarks are being carried out using Geekbench 5's macOS client. As Apple introduced
Rosetta 2
as a a translator to
convert apps
meant for Intel-based Macs to function on Apple Silicon, it is highly likely that this introduces some overhead that affects the benchmark's score.
Though the benchmarks may be disappointing to some, as they are below the results of the
current range
of
Mac mini
models, there are still a few more points to bear in mind. For a start, the DTK is intended as a system for developers to test out software in development for the new Apple Silicon-based Macs, and are not meant to be used as a demonstration of Apple Silicon's Performance.
It is also highly likely that Apple will make changes to the hardware before it ships its first consumer-based Apple Silicon model, including altering the chip itself as well as refining other components. Furthermore, performance improvements are almost certainly going to be made to speed up
macOS Big Sur
itself and Rosetta 2.