App Store nearly doubles Google Play revenues across COVID-19 lockdown
The Apple
App Store
generated $32.8 billion across the globe in the first half of 2020, nearly double that of the Google Play store.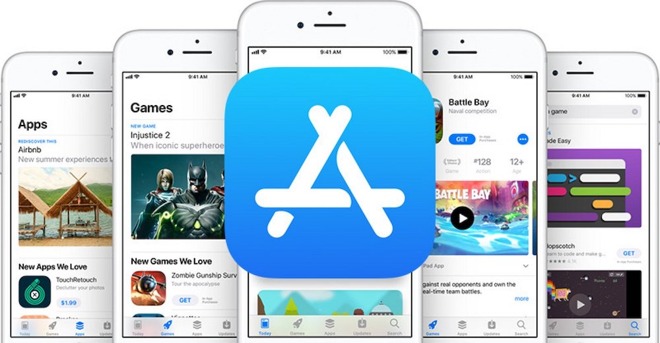 Credit: Apple
That number, based on data estimates from app analytics firm Sensor Tower, represents the total amount spent on in-app purchases, subscriptions and premium apps and games within the first six months of 2020. The firm bases its projections and predictions on data points, such as app analytics, and proprietary algorithms.
Consumers spent a total of $50.1 billion on the two largest app marketplaces during that period, Sensor Tower Store Intelligence estimates
show
. Notably, spending on the App Store was nearly double the gross revenue of the Google Play store, which clocked in with $17.3 billion.
The App Store's Q1 and Q2 2020 app revenue estimates was 23.4% higher than the $40.6 billion estimated for the same period in 2019. Similarly, app revenue had risen by about 20% that year from 2018.
As far as apps themselves, Sensor Tower estimates that there were 71.5 billion first-time downloads in the first half of 2020. The App Store accounted for 18.3 billion of those, a 22.8% year-over-year increase. That growth was at least partly attributed to global lockdowns amid the
coronavirus
crisis.
The mobile gaming ecosystem also surged in the first six months of the year. Spending on the sphere was up 21.2% from the year before. Apple's App Store generated in-game spending growth of 22.7%, reaching a new milestone of $22.2 billion.
While TikTok maintained its spot as the most-downloaded non-gaming app, Tinder and YouTube ranked as the first and second highest earning apps in the category. For gaming apps, PUBG Mobile and Honor of Kings ranked the first and second top-grossing apps.
Apple doesn't release detail statistics or results from its app marketplace, meaning app analytic estimates like these are often the only indication we get of the app economy's growth. With that being said, estimates aren't always accurate.
Recently, Apple did highlight an independent economic study looking at the total commerce generated by its App Store. Per that study, the marketplace contributed to
more than $500 billion in total billings and sales
.
Previously, Sensor Tower
released a report
showing that iPad app downloads were surging in the first quarter of 2020. Past reports from the analytics firm have also cemented the
App Store's dominance over Google Play
.
The App Store estimates come during a time of
increased antitrust scrutiny
over Apple's specific developer guidelines and in-app payment policies in the U.S. and Europe.