How to turn automatic iOS update downloads on or off
Apple's latest iOS 13.6 and iPadOS 13.6 releases include a new Settings toggle that allows the device to automatically download future software updates. Here is how to turn automatic downloads of iOS updates on or off.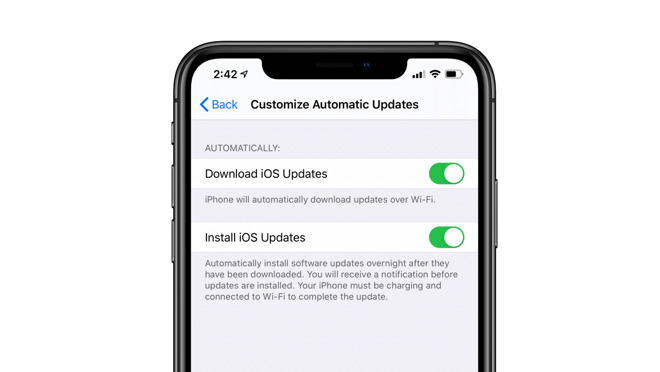 A new toggle to automatically download software updates
Apple has long allowed iPhone and iPad users to automatically install software updates overnight after they were manually downloaded. The new feature in iOS 13.6 and iPadOS 13.6 further automates the process by downloading new operating system versions without user intervention. That said, the system still alerts users before installing the software.
A new message that reads "iPhone will automatically download updates over Wi-Fi" is placed under the new toggle below the
Automatic
header in the Software Update panel.
To enable automatic
iOS
update downloads:
Head to Settings


Go to General > Software Update > Customize Automatic Updates


Enable the "Download iOS Updates" toggle
Users may prefer to turn off automatic iOS update downloads so they can manually initiate the download at a preferred time, such as when they are at a home or work with faster Wi-Fi or if their home Wi-Fi has a data limit. Major iOS updates can be up to a few gigabytes in size.
Apple on Wednesday
released iOS and iPadOS 13.6
to the public with new Apple News+ audio, daily briefings, and more local coverage, as well as the ability to
log symptoms in the Health app
. Other changes include minor feature additions and bug fixes.