COVID-19 boredom boosts streaming music for 2020
The social distancing measures of the ongoing COVID-19 pandemic has benefited music streaming services like
Apple Music
, with a Nielsen US music industry report indicating streaming subscriptions saw continued growth while other methods of buying music were negatively affected.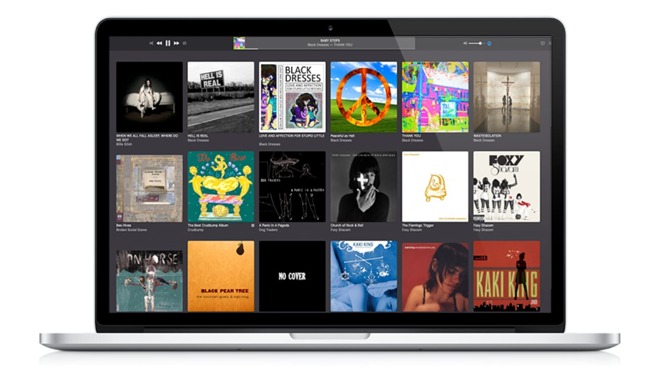 The music industry in general was enjoying a considerably good start to 2020 in the first few months of the year, the Nielsen
report
claims, with total audio activity in the United States up 14.6% year-on-year from the start of 2020 until March 12. During that time, on-demand audio streaming services like Apple Music saw growth of 20.4% year-on-year.
Not long after, the presence of
COVID-19
and the need for people to stay at home made an impact on many different industries by reducing overall consumer purchasing. Despite this, total audio activity rose higher in the period of March 13 to July 2 by 6.2% year-on-year, helping the year-to-date activity stay at a year-on-year increase of 9.4% overall.
On-demand audio streaming continued strong during this second period, growing 13.8% and keeping the year-to-date growth at 16.2%.
Digital sales, such as by the iTunes store, started the year poorly with a 24.6% year-on-year downturn on digital album sales until March 12 and digital song sales down 26.4% in the same period. For the March to July timeframe, digital song sales stayed low at 21.2%, but digital album sales seemingly recovered to 7.3% year-on-year.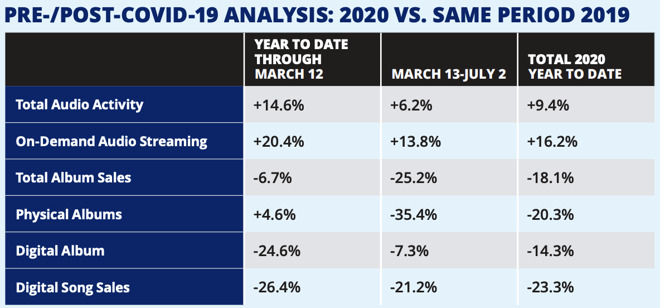 Music industry segment changes in early 2020 [via Nielsen]
For contrast, physical album sales went from 4.6% growth in the earlier phase, then dropped to a contraction of 35.4% in the later period.
Suggesting the "boredom and anxiety" helped push consumers to music for comfort, the report offers that many people turned to music they were familiar with, including 55% revisiting music they hadn't heard for a while. The share of streamed catalog tracks, defined as music older than 18 months, saw a small increase from 62.5% in the first half of 2019 to 63.1% in 2020.
"These shifts in listening indicate that recent releases received less attention than a year ago," the report explains. "I change of just one percentage point represented a shift in streams from newer to older songs of about 23 million per day and 160 million each week."
The higher number of streams is a continuing trend for the music industry, as consumers move from buying music to paying for access.
In April, a report claimed Apple Music's subscriber base had grown
36% in 2019
, outpacing overall global subscription growth of 32%. The RISS said in February streaming services including Apple Music and Spotify generated
$8.8 billion in revenue
for the US music industry in 2019, a 20% year-on-year increase and accounting for 79% of all US music revenue in 2019.