Review: Lepow 15-inch portable monitor is highly movable extra screen space
If you've ever debated adding a portable monitor to your tech arsenal, this 15-inch USB-C powered monitor makes a compelling argument as to why you should.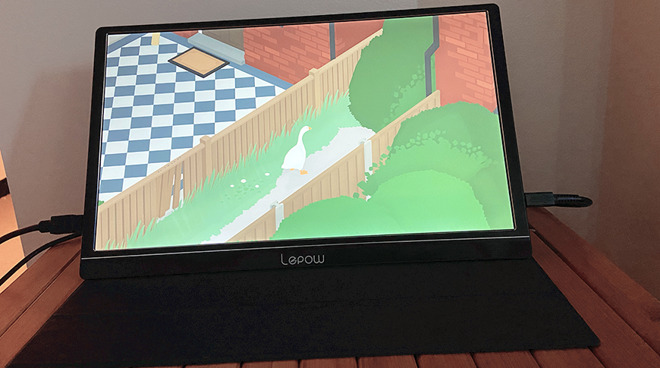 We took a look at
Lepow's 15.6-inch portable gaming monitor
to see whether or not it was worth adding to our setup. We were surprised to find how much we enjoyed being able to use it, and it's small size and reasonable price makes it an excellent alternative to traditional displays.
Size matters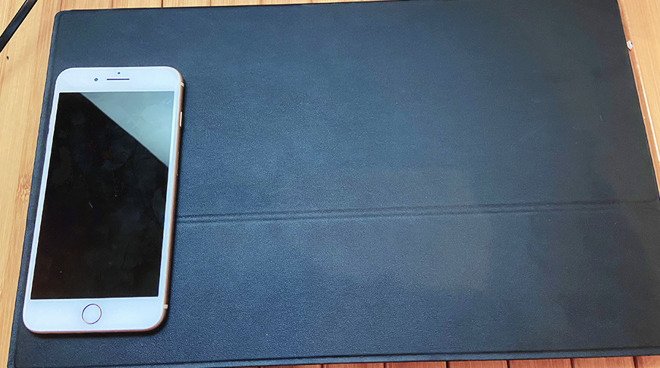 Shown with an iPhone 8 Plus for scale
The Lepow Portable Monitor features a 15.6-inch screen on the diagonal, making it feel remarkably similar to laptop screens that you may already be used to using, making it a great desktop companion for those who want to expand their laptop screens.
The slim size makes it extremely portable. It only weighs 1.76 pounds -- just a hair more than a
12.9-inch iPad Pro
, and at little over 7 millimeters thick, it's half the thickness of a
MacBook Air
.
Its lightweight and minimal profile make it perfect for tossing into a backpack and hitting the road.
Getting connected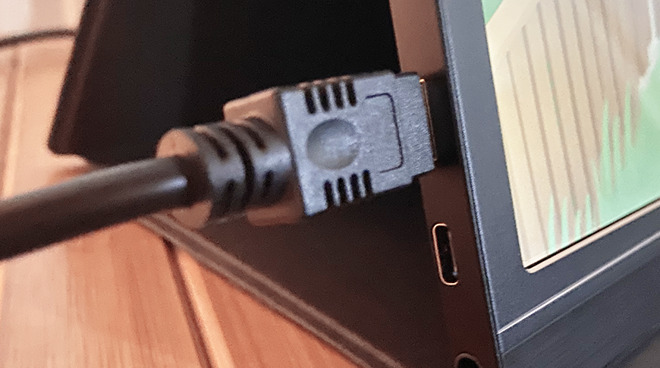 HDMI mini, USB-C, and 3.5mm audio port
Getting connected to the monitor is relatively easy, though it depends on your device. For example, if you've got a phone or laptop that can support video through USB-C or Thunderbolt 3, you'll need one cable.
It will drain your battery fairly quickly though, so it may be worth it to power the monitor with the included USB-C wall adapter instead.
If your device doesn't support it -- like the Nintendo Switch -- you'll want to use the included HDMI-to-mini HDMI cable. You'll need to provide additional power to the monitor when connected to HDMI.
We found that the original Switch's dock provided enough power and minimized the amount of outlet space we needed to take up.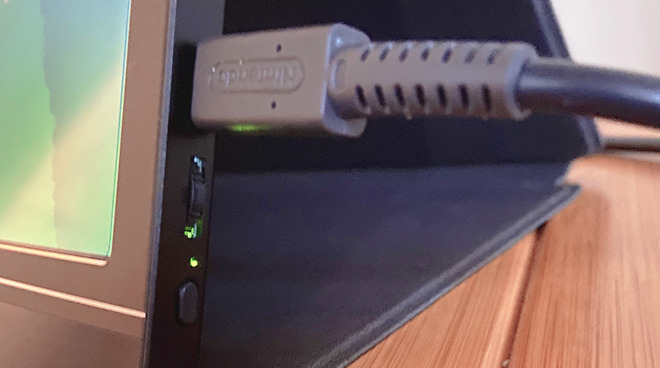 Included on the side of the monitor above the power button is a volume toggle wheel
Performance
The screen is crisp and bright, with 72% NTSC coverage. Even after playing video games for several hours, our eyes weren't tired, which we've experienced with lower-quality displays before.
It's worth mentioning that its 1920-by-1080 pixel resolution can feel a bit cramped if you're working in programs that require a lot of space. However, for gaming, watching videos, or general internet browsing, it's significantly better than trying to use a smaller screen.
The sound quality is decent, though nothing worth writing home about. The monitor does feature a 3.5mm audio jack, so if you've got a favorite pair of headphones, we suggest plugging them in for a better audio experience.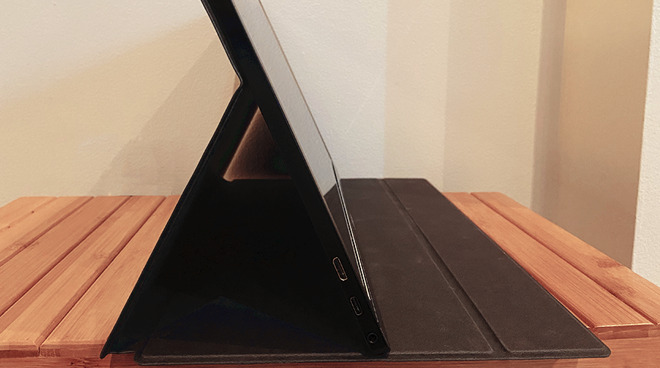 The included cover is designed to hold the monitor in a couple of different positions
While it's a small gripe, we weren't impressed with the included smart-cover style flip stand. It attaches magnetically to the back of the monitor and allows a user to prop it up in a few different configurations, but we found that it doesn't hold nearly as tightly as we hoped.
We had a few issues where relatively minor bumps to the table it was sitting on would cause it to fall over. It may be worth looking into alternative stands if you plan on using it where it could be bumped or jostled about.
But who is it for?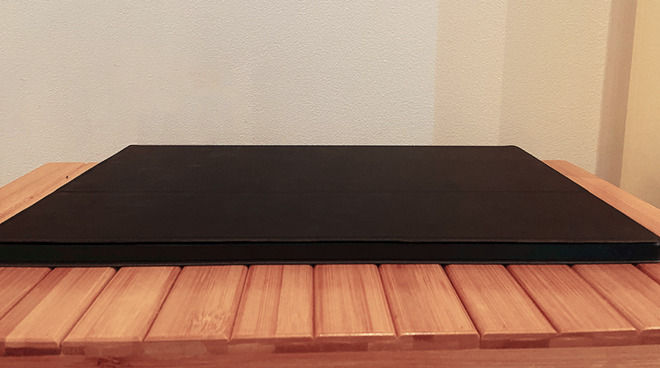 Its small size makes it easy to throw in a bag or store in a desk drawer
While this monitor probably isn't for everyone, there are a few use cases that make a lot of sense.
If you're the type of person -- say, a college student -- who regularly travels with their Switch, it's an ideal portable party system. Instead of expecting your friends to crowd around the Switch's 6.2-inch screen for a game of Mario Kart, everyone can look at the Lepow's 15.6-inch display.
The ability to give yourself a secondary, portable screen to extend a MacBook display is ideal for artists, designers, and workers who need to travel, too. Because of its slim profile, you can easily slip the Lepow portable monitor into the same padded laptop compartment of your favorite grab-and-go tech bag.
For some users, the ability to flip the screen into portrait mode and use it to monitor social media feeds or browse lengthy websites is also nice.
It's also a convenient monitor for occasional use. If you've got a particularly cramped space to work in but still want the benefits of a second monitor or small TV, you'd be hard-pressed to find a better solution than a portable monitor. Simply pop it up when needed, and when you're finished, it tucks away easily into a desk drawer or shelf.
Overall
If you're looking for a portable monitor, the Lepow portable gaming monitor offers great picture quality and a decent price. While we weren't a fan of the included cover, we still think it's a good monitor for what it claims to be.
If you want one of your own, you can head to Amazon and
pick one up for $188.98.
There is a limited-time promotion that allows users to take an extra $15 off by checking the Amazon coupon box on the listing.
Score: 4 out of 5 stars
Pros
Great screen quality

Excellent size and weight

Powered via USB-C

Includes HDMI-to-Mini-HDMI and USB-C cables.
Cons
1920 by 1080 pixel resolution can feel cramped in certain programs

Included cover does not securely hold monitor upright