Rep. John Lewis honored on the Apple.com homepage
Apple has updated the front page of its website to honor Rep. John Lewis, a congressman and notable civil rights pioneer who passed away on Friday after a battle with cancer.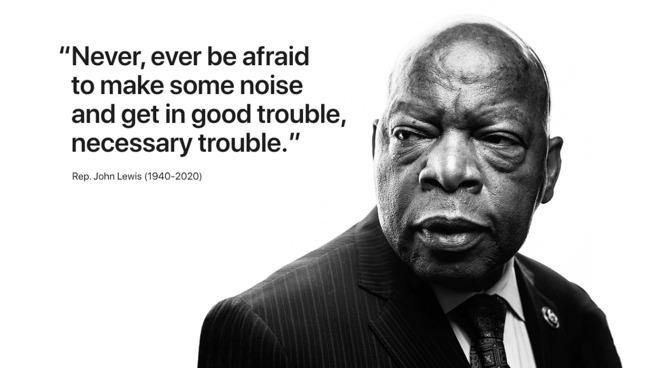 As part of an outpouring of support over the weekend by political leaders and civil rights campaigners, Apple's
website
has been refreshed to offer a tribute to Lewis. Updated on Sunday morning, the website features a large photograph of Lewis, along with a quote: "Never, ever be afraid to make some noise and get in good trouble, necessary trouble."
The website tribute is echoed by Apple CEO Tim Cook, who posted to Twitter about the loss of "an American hero." Referencing Lewis' work marching "for us all," Cook suggests "His life's work shaped our history and his legacy inspires us to continue the march for racial equality and justice."
We have lost an American hero. John Lewis guided us toward a more righteous world. He marched in Selma, he marched on Washington-- he marched for us all. His life's work shaped our history and his legacy inspires us to continue the march for racial equity and justice. pic.twitter.com/WqW11757Io
Rep. Lewis
is best known as a civil rights movement pioneer, one of the "Big Six" civil rights leaders alongside Martin Luther King Jr. One of the organizers behind the 1963 March on Washington, he spoke at the same rally as Dr King's historic "I Have a Dream" speech, and after helping found the Student Nonviolent Coordinating Committee, he became its chairman from 1963 until 1966.
Organizing the march across the Pettus Bridge in Selma in 1965, which led to the event known as "
Bloody Sunday
," Lewis and others were beaten by state troopers, with the news images of the attacks credited with helping pass forward the 1965 Voting Rights Act. He was also asked by President Jimmy Carter in 1977 to lead the ACTION federal volunteer agency.
He was elected to congress in 1986, serving from January 1987 onwards as a representative for Georgia's 5th district. President Barack Obama presented him with the Presidential Medal of Freedom in 2011.
Lewis passed away following a battle with pancreatic cancer, which he revealed was at stage 4 in December.