Apple commits to 100% carbon neutral footprint by 2030
Apple is shooting for total carbon neutrality across all of its business aspects 20 years sooner than the Intergovernmental Panel on Climate Change targets are aiming for.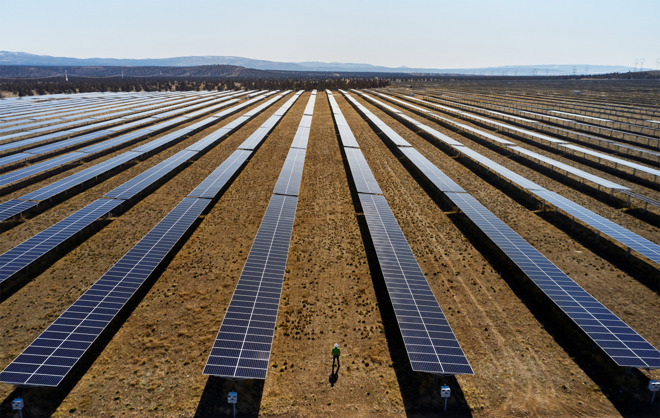 Apple solar farm, part of its existing carbon reduction initiatives
Apple is already carbon neutral today for its global corporate operations, but on Tuesday, the company unveiled its plan to become carbon neutral across its entire business, manufacturing supply chain, and product life cycle by 2030. Specifically, Apple has detailed its plans to reduce emissions by 75 percent by 2030 while developing carbon removal solutions for the remaining 25 percent of its footprint.
"Businesses have a profound opportunity to help build a more sustainable future, one born of our common concern for the planet we share," said Apple CEO
Tim Cook
. "The innovations powering our environmental journey are not only good for the planet -- they've helped us make our products more energy efficient and bring new sources of clean energy online around the world. Climate action can be the foundation for a new era of innovative potential, job creation, and durable economic growth. With our commitment to carbon neutrality, we hope to be a ripple in the pond that creates a much larger change."
By 2030, Apple's entire business will be carbon neutral -- from supply chain to the power you use in every device we make. The planet we share can't wait, and we want to be a ripple in the pond that creates a much larger change. https://t.co/bltmlnau1X
Apple is establishing an "Impact Accelerator" that will focus on investing in minority-owned businesses that drive positive outcomes in its supply chain and in communities that are disproportionately affected by environmental hazards. This accelerator is part of Apple's
recently announced
$100 million Racial Equity and Justice Initiative.
"We're proud of our environmental journey and the ambitious roadmap we have set for the future," Apple's Vice President of Environment, Policy and Social Initiatives Lisa Jackson said. "Systemic racism and climate change are not separate issues, and they will not abide separate solutions. We have a generational opportunity to help build a greener and more just economy, one where we develop whole new industries in the pursuit of giving the next generation a planet worth calling home."
In the short term, Apple will lower carbon emissions in the next 10 years by continuing to increase the use of low carbon and recycled materials in its products. Specifically, Apple cites a new "Dave" iPhone disassembly robot, the company's Material Recovery Lab in Texas, and expanding energy efficiency across its corporate facilities and supply chain.
Apple will remain at 100% renewable energy for its operations -- a goal it reached in data centers in 2014, and in China
in 2015
. It now has commitments from over 70 suppliers to use 100 percent renewable energy for Apple production -- equivalent to nearly 8 gigawatts in commitments to power the manufacturing of its products. Once those commitments are fulfilled, these commitments will avoid over 14.3 million metric tons of carbon dioxide emissions annually -- the equivalent of taking more than 3 million cars off the road each year.
The company also says that over 80 percent of the renewable energy that Apple sources for its facilities are now from Apple-created projects, efforts that also benefit communities and other businesses.
As part of the 100% commitment, Apple is also announcing a first-of-its-kind carbon solutions fund to invest in the restoration and protection of forests and natural ecosystems globally. In partnership with Conservation International, the company will invest in new projects, building on learnings from existing work like restoring degraded savannas in Kenya and a vital mangrove ecosystem in Colombia.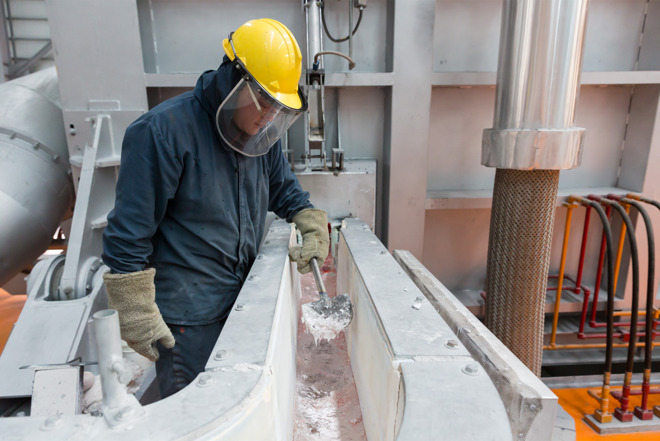 Apple supported the development of an aluminum production method that releases oxygen, rather than greenhouse gases, during the smelting process.
Other recent process improvements also include development of the first-ever direct carbon-free aluminum smelting process that it started
funding in 2018
. Apple has also announced today that the first batch of this low-carbon aluminum is intended to be used for
16-inch MacBook Pro
enclosures.
As part of the announcement, Apple's mobile and desktop homepages are trumpeting the target as a "planet-size plan." It has also released the
2020 progress report
on existing initiatives.