Smartphone demand continues to improve ahead of 'iPhone 12' launch
Cowen's iPhone build forecasts remained unchanged in July, though smartphone demand generally is continuing to improve from COVID-19 impacts as Apple shifts its focus to the "
iPhone 12
."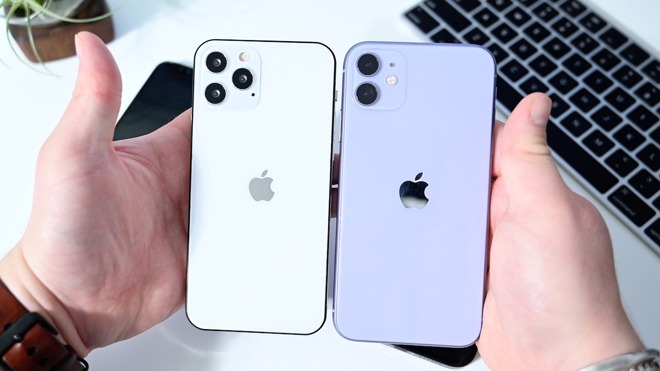 An 'iPhone 12 Pro' alongside a current-generation iPhone 11.
In a note to investors seen by
AppleInsider
, lead analyst Krish Sankar said that Apple's
iPhone
builds finished out the June quarter at 35 million units. That's a 12% decrease year-over-year and a 5% decrease from the previous quarter.
On the other hand, global smartphone demand is continuing to improve in the wake of
coronavirus
. Because of that, Cowen is shifting their focus to the "iPhone 12" lineup.
"While we expect the next iPhone to launch in C4Q20, production volumes and availability could be marginally slower due to the impact of COVID-19 on overall development timelines," Sankar wrote. "We view this shift in volume production by a month or two to not be material in the long term."
The analyst adds that Cowen's third quarter forecast remains unchanged at 40 million units. As a 14% quarter-over-quarter increase, Sankar said that it would be a "positive for sentiment in AAPL shares."
Sankar adds that the expected unit mix of the upcoming "iPhone 12" models is estimated to be 25%, instead of 66% in the third quarter of previous years.
The analyst's build forecast for the December quarter, 73 million, is up from earlier predictions of 69 million. That will include an 81% mix of new "iPhone 12" models. "Total 'iPhone 12' units in C2H are estimated at 70M vs ~84M for the prior two iPhone cycles," Sankar wrote. He added that total iPhone builds in 2020 are tracking to 185 million, a 6.6% decrease year-over-year.
As far as the broader smartphone market, Cowen is shifting its global handset unit forecast to a decline of 12% year-over-year, an improvement over the previously predicted 18%.
Cowen's 12-month price target for AAPL remains
unchanged
from June 22 at $400 a share. That bump, up from $335, was attributed to Apple's transition to
Apple Silicon
and the upcoming 5G iPhone cycle.