Cowen bumps AAPL to $470, says it's a 'defensive stock' for a post-coronavirus world
Investment bank Cowen has raised its AAPL price target to $470 on Apple's better-than-expected June quarter results and its continuing status as a "defensive" stock.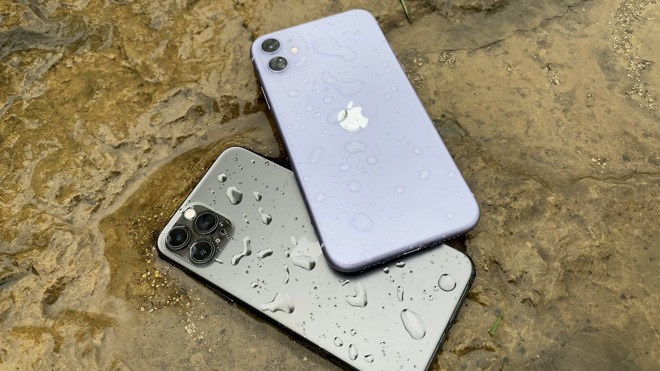 Credit: Andrew O'Hara, AppleInsider
During the June quarter, sales of iPhones were resilient and strong Mac and iPad demand showed the "durability" of Apple's portfolio, lead analyst Krish Sankar wrote in a note to investors seen by
AppleInsider
. The results have set an "encouraging outlook" for Apple into 2021, based mostly on continued Services momentum and the upcoming "
iPhone 12
" cycle.
Apple's Q3 results were actually "well above" the highest consensus. Ahead of the earnings report, Sankar originally
forecast
quarterly revenue of $50.18 billion. Apple actually reported $59.7 billion in revenue.
The company's iPhone business actually managed to grow 2% year-over-year, despite declining smartphone demand. Sankar estimates that Apple shipped 35 million units in the quarter, and estimates that it'll ship 40 million in the next one.
Thanks to new work-from-home and remote education trends, both the iPad and Mac spheres showed growth in the June quarter -- up 31% and 22% year-over-year, respectively.
For Services, Apple was able to achieve a milestone of doubling 2016 sales two quarters early. Sankar notes that the "long term growth profile for the Services segment remains intact and segment gross margin reached a record 67.2%vs the LTM average of 64.5%."
On capital returns, the analyst estimates around $77 billion in buyback authorization. Apple repurchased $16 billion worth of AAPL in the June quarter.
"A diversified hardware portfolio helped AAPL weather a shift to WFH spendingwhile supporting robust FCF. Looking into CY21, a 5G iPhone cycle coupled with a growingServices business makes AAPL a defensive/growth stock to own in a (post) COVID-19 world," Sankar writes.
The analyst is bumping Cowen's 12-month AAPL price target to $470, up from $400. That's based on a 23x earnings multiple on the core business and a 35x multiple on Services, leading to a blended 28x price-to-earnings multiple on a 2021 earnings-per-share estimate of $16.83.
Shares of AAPL were trading at about $410 on the NASDAQ through most of Monday morning. Apple's stock price nearly immediately jumped 6.42% after Thursday's earnings call, eclipsing
the $400 landmark
.