Apple sunsets Dark Sky on Android and Wear OS
Dark Sky
, the popular weather app, is no longer available to download or use on Android and Wear OS, with the Apple-owned app now nonfunctional on Google's mobile and wearable device platforms.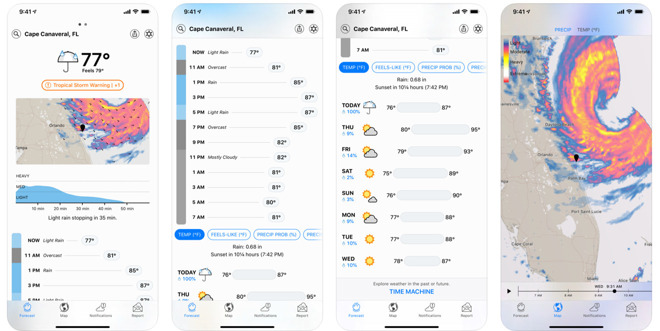 Dark Sky for iOS
As
scheduled
by Apple, the Dark Sky app has stopped working on Android and Wear OS devices. Users of the app are now not able to access weather reports from the app itself, and instead must check other apps for the same details.
Existing users of the app are now greeted with a notification in the app of the shutdown, and that subscribers of the app will have a full refund of their $2.99-per-year plan,
reports
9to5Google
. Attempts to search based on location now offers no usable results at all, such as sunrise and sunset being 12AM and temperatures being set at 0 across the board.
Following the
purchase of Dark Sky
by Apple in March, the Android app was originally set to shut down on July 1st, but instead was allowed to function for an extra month. The Google Play Store listing for the app no longer functions, and was previously taken down to prevent any new users from signing up for the service.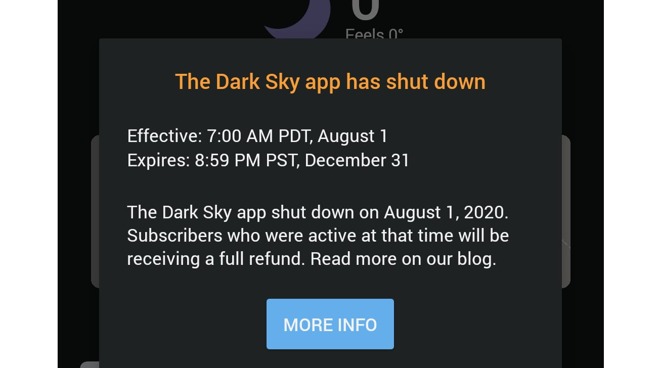 Dark Sky's in-app sunset message for Android users. (via 9to5Google)
According to the schedule, the website was supposed to be shutting down on August 1, but the app's
blog
advises "Weather forecasts and maps on the Dark Sky website remain active." The API service is still active for existing customers only, and will continue to function until the end of 2021.
The
iOS version
of the app continues to be available for purchase from the App Store, but it remains to be seen how long it will continue to do so. In
iOS 14
, the Weather app has been updated to include some data being sourced from Dark Sky's API, including a new next-hour forecast, while widgets will display the expected weather for the coming hour.
Read on AppleInsider