'iPhone 12' will use magnets to simplify charging positioning, leak claims
Photographs purporting to be of the inside of an "
iPhone 12
," and Apple's official cases, show a circular arrangement of magnets, possibly related to charging.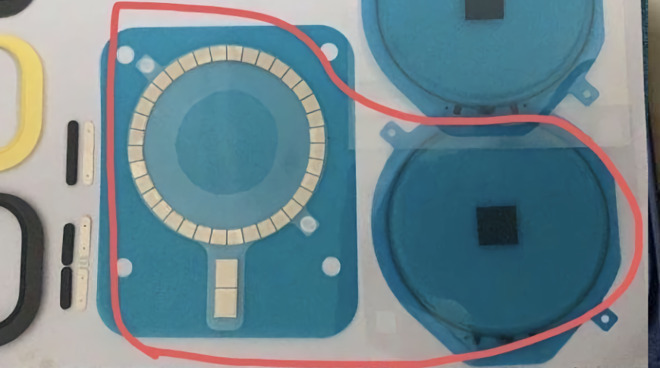 Purported images of the interior components of an "iPhone 12" showing a circle of magnets
Following previous reports that the "iPhone 12" chassis may feature smaller batteries than the
iPhone 11
range, a new leak claims that there will be a series of magnets which may be related to wireless charging. Photographs show a circular arrangement of batteries within the chassis, and a seemingly identical one in what's claimed to be Apple's official "iPhone 12" case.
The images were reportedly first seen on Weibo, and then posted to Twitter by
EverythingApplePro
. This account has
previously claimed
details about the "iPhone 12," and also
broke an iPad Pro
in order to prove it could be broken.
While the original tweet only says that there are magnets inside the forthcoming iPhone's chassis, EverythingApplePro followed that with a second leak. This image is purportedly of an official Apple case for the new phone and shows the same circular arrangement of magnets.
Yup. Official iPhone 12 cases will also have this magnet system built in. Likely for perfect alignment with Apple's wireless chargers. pic.twitter.com/eDEQ474NIX
It's suggested that this circular magnet arrangement may be to do with wireless charging. The new "iPhone 12," or its case, might support
charging other devices
, in which case these magnets may keep those in place.
Alternatively, the magnets may be there to help with the charging of the phone itself. Apple has reportedly
charging other devices
">
https://appleinsider.com/articles/20/06/18/apple-has-reportedly-solved-the-airpower-overheating-problem
on its previously-cancelled
AirPower
charging mat, and this magnet arrangement may be related.