Kensington UltraThin Magnetic Privacy Screens released for MacBook Pro, MacBook Air
Prevent shoulder-surfers and "visual hackers" with the Apple Store-exclusive Kensington magnetic privacy screen for your MacBook Air or
MacBook Pro
.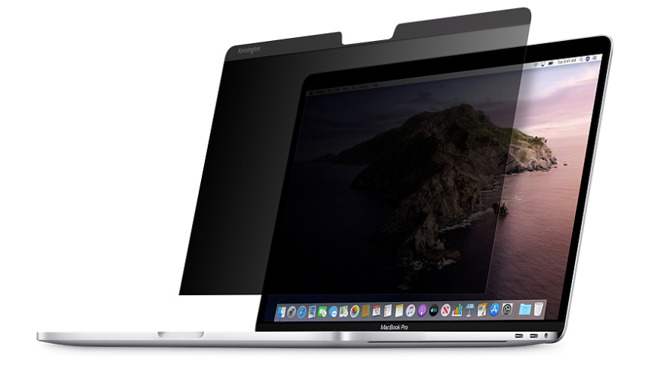 The UltraThin Magnetic privacy screen is a great way to guard against prying eyes, whether in the coffee shop, on the bus or plane, or in the office. It seamlessly attaches to your MacBook's magnetic frame and does not interfere with closing the lid or entering sleep mode.
When attached to a compatible MacBook Air or MacBook Pro, the UltraThin Magnetic Privacy Screen reduces the viewing angle to plus or minus 30 degrees, making it nearly impossible to read the screen without being directly in front of it.
Additionally, Kensington claims that the privacy screen reduces blue light by 22%, diminishes glare, improves clarity, and prevents screen scratches and damage.
Included alongside the privacy screen is an anti-bacterial cleaning cloth and screen holder to protect the privacy screen from scratches when not in use.
There are three sizes available to purchase from Apple's website:
A 13-inch screen for the MacBook Air and MacBook Pro
that costs $49.95, as well as a
15-inch screen
and
16-inch screen
for their respective MacBook Pro models, both priced at $59.95.