Amazon has a plan to save vacant mall department stores
Amazon is reportedly in talks with mall owners to use empty department stores previously operated by J.C. Penney and Sears as distribution hubs, and it, coupled with Apple's high retail draw give American malls the best chance to withstand the
coronavirus
pandemic.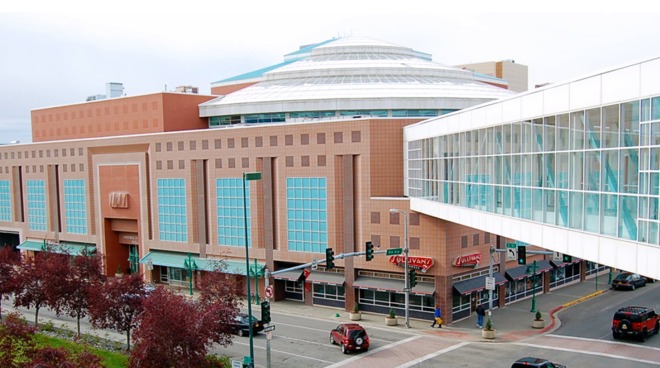 The Anchorage 5th Avenue Mall [via Simon]
Online retail has been a thorn in brick and mortar retail's side, with consumers shifting their attention to cheaper virtual storefronts instead of the real thing. The financial troubles of major retailers like J.C. Penney and Sears has put a strain on the commercial real estate industry, which has reportedly prompted Amazon to take advantage of the decline of malls.
According
to the
Wall Street Journal
, Amazon is in talks with the Simon Property Group, the largest mall owner in the United States, about taking over some of the department stores that are enduring financial hardship. J.C. Penney and Sears have both filed for chapter 11 bankruptcy protection, with the closure of stores part of their plan to restructure their businesses.
The report suggests that Amazon is keen to take over a number of the closed or soon-to-close stores for its own operation, with Simon malls housing 63 J.C. Penney and 11 Sears locations as of May. However, rather than putting its own stores in place, Amazon would instead use the former department stores as warehouses and distribution centers for its online sales.
As large spaces that are generally larger than 100,000 square feet, department stores are ideal for use in other large-scale applications, such as product distribution centers. Aside from their size, the location of the malls is also advantageous for any business that relies on creating its own distribution networks, due to being much closer to where their customers live.
While talks are ongoing, malls may not necessarily wish to give up the prized department store spaces that easily. The general business plan for a mall is that a major department store partner occupies a main space and draws customers in, while smaller retailers fill out the rest of the location and take advantage of the foot traffic.
However, if Amazon were to take over the storefronts and turn them into distribution centers instead of retail outlets, malls would lose out on having an attractive centerpiece, and the reduced footfall could go down even further, worsening the situation for mall owners.
Some report sources suggest Amazon has also been in talks to bring its
grocery store chain
to former J.C. Penney outlets, which could provide a more conventional
retail element
to plans, though it is unclear if such talks are being made with Simon Malls.
There may not necessarily be that many other options for mall owners to bring in another department store partner. For example, Lord & Taylor and the Neiman Marcus Group have filed for bankruptcy, while Nordstrom has closed 16 of its stores in the last few months.
For Amazon, the ailing malls could prove to become a cheaper venue for its distribution than the usually better value warehouses. A warehouse would usually cost under $10 per square foot in rent, a fraction of the cost of a smaller consumer-facing outlet that would be used by a restaurant, for example.
However, mall operators keen to make agreements with department store chains have offered rents as low as $4 per square foot. Given the struggle of malls in the current climate, it is plausible that Amazon will be able to secure a rent that's not much higher than that.
Apple could help save malls
While the decline of malls may see department stores exit in favor of Amazon distribution centers and other types of businesses, this may provide an opportunity for Apple to step in. The Apple Stores are already a highly-popular outlet, and though locations aren't as big as a typical department store, they do tend to take up a lot of floor space for the Today at Apple sessions and other elements.
As Apple is ever keen to expand its retail empire on its own terms, it may look at the Amazon-Simon situation and want to take advantage of the same benefits, namely large amounts of floor space at cheap prices. Unlike Amazon, which will most likely involve a non-consumer operation, Apple's retail would still be a consumer-facing element of a mall, as well as being one that attracts foot traffic, giving mall owners a good reason to provide beneficial terms to Apple.
According to Simon's
website
, there are 54 Apple Store outlets across its entire network of malls.
In 2015, a report revealed Apple paid as much as
2% of its sales revenue
to malls, far smaller than the typical 15% paid by other tenants. The disparity is in part due to mall owners increasing rents for storefronts positioned next to or near Apple's outlets, despite the Apple Store not being considered an "anchor" tenant.
At the same time, the percentage also reflects a major difference in sales numbers, due to Apple's premium pricing.
Apple is already attempting to take advantage of the weak retail property market, in part affected by the
COVID-19
pandemic, by asking landlords in the UK to
cut rents in half
and to provide a payment holiday, in return for an extended lease.
Alternately, it is also feasible for Apple to take the same route as Amazon and use the department stores as a large block of space for other tasks. It already rents out
office spaces
of a similar size around the world for its staff to work within, and a department store would be useful as a considerably cheaper way to increase its real estate footprint.
Turning department stores into office space isn't new. Web hosting company Rackspace turned the
Winsor Park Mall
in San Antonio, Texas into its corporate headquarters.
There is even the possibility of Apple using the distribution network concept, but in another way. Apple could easily install a server farm into a mall's department store space, providing access to its services to customers at a much shorter distance to current regional offerings.