Korea investigating Apple and Google over in-app purchase costs
The Korean government will investigate claims that Apple's
App Store
and the Google Play Store charge excessive fees to developers when customers make in-app purchases.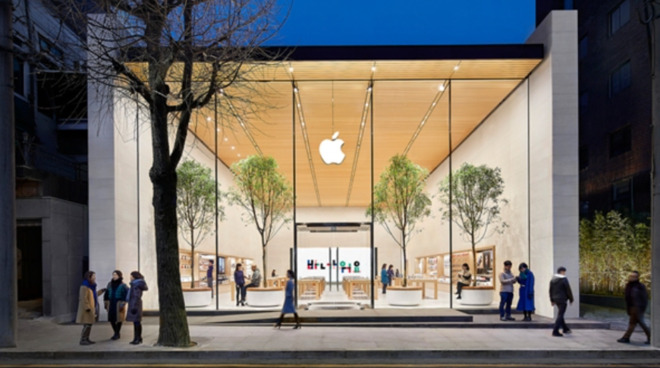 Apple's only store in South Korea
Following a
local Korean consortium's petition
, the country's Ministry of Science and ICT has announced that it is to investigate Apple and Google. The claim is that the companies use their positions to impose high fees, and can also alter conditions at will.
"[The ministry] will carefully monitor and prepare policies that can cope with the increasing influence of platform providers," a
spokesperson told
The Korea Herald
. "The ministry will also mediate between developers and platform operators to secure user rights."
Previously, the consortium's president Choi Sung-jin said that local developers were concerned both about Google and Apple's fees, and that there were no alternatives to using them.
"While the 30 percent commission rate is too high in itself," Consortium president Choi Sung-jin said, "it is more problematic that they force a specific payment system for the app markets."
According to
The Korea Herald
, the ministry says it intends to survey developers further. It's possible that findings may result in amendments to the country's forthcoming Telecommunications Business Act, which is due to take effect in January 2021.
This investigation into App Store policies comes as Apple is
embroiled in a dispute
with
Fortnite
developer Epic over rules and fees. It also follows
Tim Cook
defending
the store
in front of the House of Judiciary.
Recently, Apple has also
supported research
that claims its App Store operates to the same fees as other equivalents, including Google's.