Display lines on 27-inch iMac may be Radeon Pro 5700XT GPU issue
A very small number of
27-inch iMac
users are reporting issues with their Mac's graphics, with some encountering random screen glitches in the form of lines appearing on the display.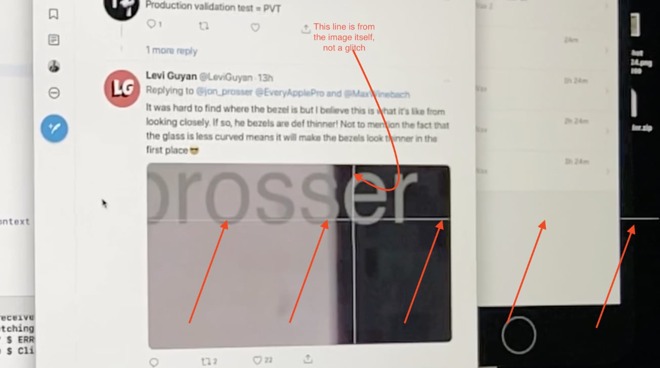 An example of the graphical glitch [via Apple Support user Bunn_pt]
In a post to Apple's Support Forums, users have
documented
the appearance of small lines on the screen of current-generation 27-inch iMacs. Images and video from one user reveal the glitches as being a single white line that spans the entire width of the desktop, one that briefly appears at seemingly random times.
According to the user, the glitch is "completely random" in its appearance, as it doesn't seem to manifest just during intense workloads, and even appears when the Mac is idle. The post from August 26 reveals the issue was affecting an iMac with a 3.6GHz 10-core Core i9 processor, 32GB of memory, and AMD Radeon Pro 5700 XT 16GB graphics.
Other users claim to have determined the source of the issue may be the 5700XT GPU that ships with the model, though was still waiting for Apple's support team to get back in touch about the problem. One person claims Apple Support advised to reset the SMC and NVRAM as a fix, which seemed to solve the problem for that particular user.
Another noted an identical issue, but added that it didn't seem to appear while using Windows 10 on the Mac. The user speculated it was a GPU driver issue.
The issue appears to affect a very small number of users. Public reporting of the issue isn't widespread, suggesting it doesn't affect all users of an iMac equipped with that particular GPU.
AppleInsider
is not able to reproduce the issue on two different iMacs with the upgraded GPU. Additionally, zero of the service locations we have spoken to
on other matters
have seen the issue.
Even though the issue appears to be related to the macOS drivers for the GPU, we still recommend documenting the case with Apple, if you are experiencing the issue.