Express Transit on iPhone & Apple Watch arrives for Washington DC Metro riders
The SmarTrip Metro Card used in the Washington DC metro area is launching on
iPhone
and Apple Watch with a dedicated Apple Wallet setup option and new iOS app.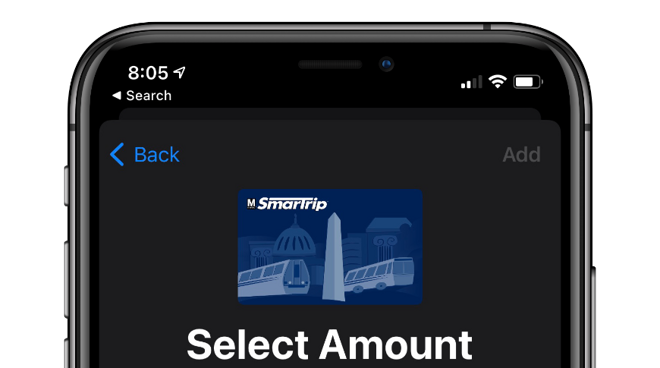 SmarTrip launches on iPhone and Apple Watch with Express Transit
The SmarTrip Metro card is the first of its kind in North America, integrating contactless payments, digital management, Express Transit features, and easy sign-up directly within Apple Wallet. Similar systems have been popularized in
Hong Kong
or the
London Underground
.
Like other cards used for transit within Apple Wallet, the SmarTrip Metro Card can be set up for Express Transit within the card settings. When using a card with Express Transit, users can tap their phone to a payment terminal without needing to confirm payment with biometrics such as
Touch ID
or
Face ID
. If your iPhone battery dies, the Express Transit card will still work for up to five hours after the battery is exhausted.
The SmarTrip Metro card can be used at all 91 Metrorail stations in DC, Maryland and Virginia; all Metro parking garages and lots; all Metrobus routes; and all regional bus providers, including ART, DASH, Fairfax Connector, Cue, Ride On, TheBus, Circulator, Loudoun County Transit, and Potomac and Rappahannock Transit/PRTC.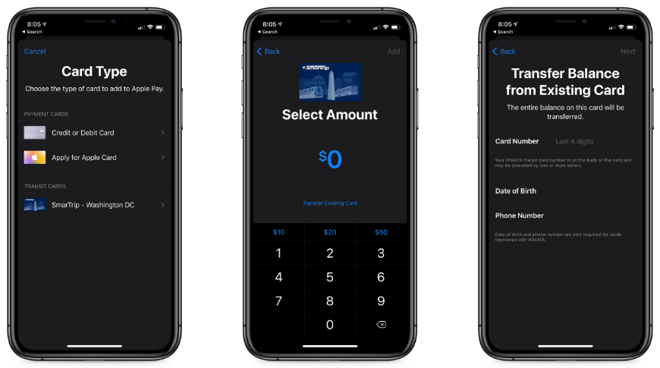 New option in adding a card in Apple Wallet for a quick and easy setup
The setup process is simple, and keeps users safe with a totally digital experience. No need to seek out a terminal to add funds or get new passes.
Adding a SmarTrip card to Apple Wallet
Open the Wallet app on your iPhone and tap the plus button.
Choose SmarTrip under Transit Cards
Enter an amount to add to your SmarTrip.
Confrim the purchase.
Your SmarTrip card is now in Apple Wallet, ready for use.
"We are excited to deliver a new level of convenience and simplicity for our customers. If you have an iPhone or Apple Watch, you already have everything you need to simply tap and go," said Metro General Manager/CEO Paul J. Wiedefeld. "In every step in the customer journey, SmarTrip on iPhone and Apple Watch makes it simpler, easier, faster, safer... just better."
In addition to the new card in Apple Wallet, an
iOS
app will let users manage their card balance and take advantage of special offers.
SmarTrip
is available
on any iPhone 8 or newer and
Apple Watch
Sereis 3 or newer.