Vuzix's designer smart glasses to debut in 2021
Vuzix, a firm at the forefront of augmented reality and smart optics technology, has announced plans to debut a stylish set of consumer smart glasses in 2021.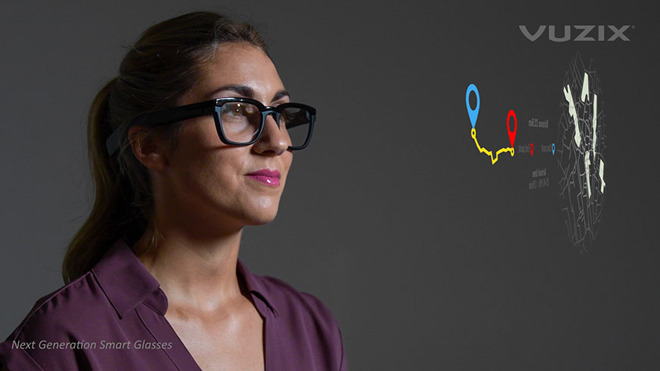 The smart glasses industry, though still niche in the consumer space, has come a long way since
Google Glass
. Market players have in the intervening years managed to develop increasingly complex optics, miniaturized audio hardware and power-dense battery packs, but packaging it all into a visually appealing product remains a struggle.
Vuzix hopes to change that with a forthcoming device lineup set for unveiling in 2021.
Announced on Wednesday, the firm's
next-generation smart glasses
are bristling with optical technology that has been refined over the past 20 years.
"It's taken years to develop -- and intellectual properties from multiple disciplines -- but all in [all] we're excited that Vuzix Next Generation smart glasses are finally able to deliver so much experience to the user in such fashion forward designs," Paul Travers, President and CEO at Vuzix, told
AppleInsider
in an emailed statement.
At the heart of the device are a pair of micro LED projectors embedded in an eyeglass frame's end pieces, each flanking thin, see-through binocular waveguides that double as a common lenses. Waveguides are commonly used in AR glasses as a means of routing graphical information from an output source to one or more display planes positioned in front of a user's eyes.
At one micron across, the micro LEDs in Vuzix's glasses offer one of the highest density pixel arrays available, the company says. Both monochrome and full-color, high-resolution RGB modules are in development, as is support for prescription lenses.
Information like heads-up display data, including navigation, incoming phone calls, real-time language translation and more, can be processed by an on-board CPU running Android. The setup allows for the display of holograph-style 3D images that float in front of a user's eyes.
A wireless communications stack with Wi-Fi, Bluetooth and cellular LTE radios is also included for standalone use without a companion smartphone. Multiple noise-cancelling microphones handle phone calls and facilitate voice-enabled device interactions, while frame-integrated acoustic chambers route stereo sound directly to a user's ears. The displays can also be controlled by tapping on one of the frame's arms.
Third-party apps will be supported, and Vuzix is currently in talks to integrate outside app ecosystems. The firm also plans to achieve Made for iPhone certification.
For smart glasses, a futuristic take on a very personal accessory, what's outside is just as -- if not more -- important as what's inside. That notion is not lost on Vuzix, and the company will be venturing into largely unknown territory with its next-generation models. Vuzix has years of experience with no-nonsense
enterprise solutions
like AR security glasses, but has had little exposure to a wider, more fickle consumer market.
"Vuzix' focus is on Enterprise and that will not change," Travers said. "You will see our Next Generation technology with a continued focus on that part of our business. Clearly the form factor is a great fit for the broader markets and you will see Vuzix, in cooperation with partners, wade into those waters too."
The company plans to release two models bearing its new tech next year: a more affordable pair of smart glasses and a higher-end variant with AR functionality.
Vuzix plans to share more about the next-generation hardware, including component specifications and a final design, in the coming months.
Apple is rumored to be working on a pair of so-called "
Apple Glass
" device, an in-house designed AR headset that could debut as soon as next year. Previous reports have claimed the project, referred to internally as "T288," runs its own "
rOS
" operating system and employs
ultra high-resolution
8K displays, LiDAR and a separate processing unit to overlay virtual images over real-world objects present in a user's field of vision. More recent rumblings suggest Apple is working on two distinct head-mounted wearables, one being a simplified heads-up display.