TransIntl upgrade lets you add 10 internal SSDs to your Mac Pro
If eight terabytes of internal storage isn't enough, Mac upgrade vendor TransIntl has an option to add up to 10 internal SATA SSDs to your
Mac Pro
.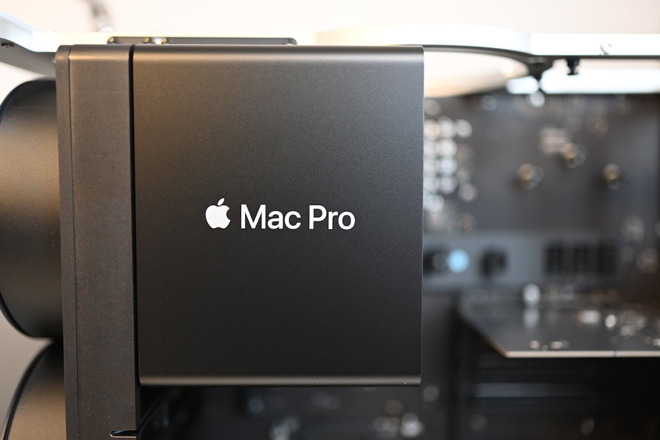 Credit: Andrew O'Hara, AppleInsider
Among the various upgrade options that the company offers is a lineup of "Pro Caddy V" internal drive solutions for the Mac Pro that takes advantage of "open space" within the computer's case. The top tier of the lineup is an
internal drive solution
that allows users to add up to 10 SSDs.
Although the accessory itself costs $299.99, adding SSDs quickly brings that price point up. You can add 10
Samsung 870 QVO 8TB drives
to a Mac Pro with the caddy. That would add 80TB of storage to your computer, and nearly $10,000 to the price tag. Of course, users can simply pop in the SSDs of their choice after the fact. But the accessory does require a separate PCIe RAID drive controller, which itself costs an additional $995.99 through the company.
There are slightly more realistic options for the average user, however. A two-drive caddy solution retails for $99 and doesn't require PCIe card, but only supports a single 2.5-inch SSD alongside a 3.5-inch hard drive.
Other options in the mix include a two SSD option (with space for a hard drive), a single-SSD with two HDD option, and a
three-drive caddy
that only fits HDDs. All three are $159.99. There's also a $199.99
five-drive caddy
that can fit four SSDs and a single hard drive.
TransIntl says that all of the caddies "blend in seamlessly" with an elegant design, and feature built-in drive mounts to absorb vibrations from spinning drives. They also ship with custom data and power cables.
Compared to a desk setup with external drives, the internal solution could save some clutter and desk space. And while the majority of people aren't going to need 10 internal SSDs, the option is here for those who do want it.
For the best deals on Apple's latest Mac Pro, check out the AppleInsider Mac Pro Price Guide.