Apple updates Apple Support app with Wallet Genius Bar check-in
Apple has updated the Apple Support app to version 4.1, which includes new features like Wallet support for Genius Bar appointments and Accessibility improvements.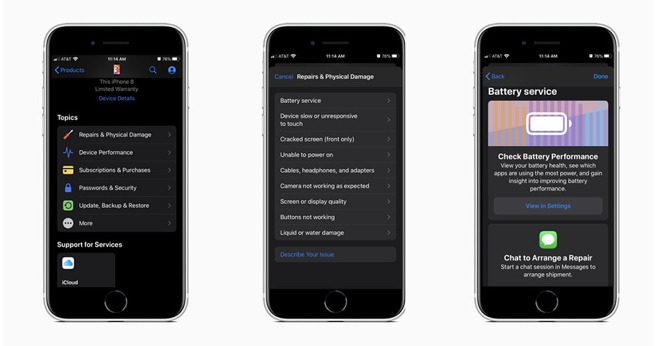 Credit: Apple
The most notable feature addition to the
Apple Support
app in version 4.1 is the ability to add a Genius Bar appointment pass to the Wallet app, allowing iPhone users to more easily and quickly check in at Apple Store locations.
This latest update has also made the Apple Support app more accessible to a wider array of people with new VoiceOver improvements and the ability to find Advisors in a user's preferred language in regions with multiple languages. It also includes under-the-hood performance enhancements and bug fixes.
Apple last
updated
the Apple Support app in April with the addition of Dark Mode and enhanced chat and call options.
Full release notes for version 4.1 of the Apple Support app can be seen below.
- Add a pass to Wallet for easy check-in at more Genius Bar locations
- Easier to find Advisors in your preferred language in regions with multiple languages
- Accessibility improvements for VoiceOver, including Search navigation, labels, and more
- Performance enhancements and bug fixes