'Apple Watch Series 6,' 'iPad Air 4' highlight Apple 'Time Flies' event without 'iPhone 12...
Tuesday's "Time Flies" event will feature the "
Apple Watch Series 6
" and a new "iPad Air," but a new report claims that the "iPhone 12" is coming in October, and Apple Silicon Macs in November.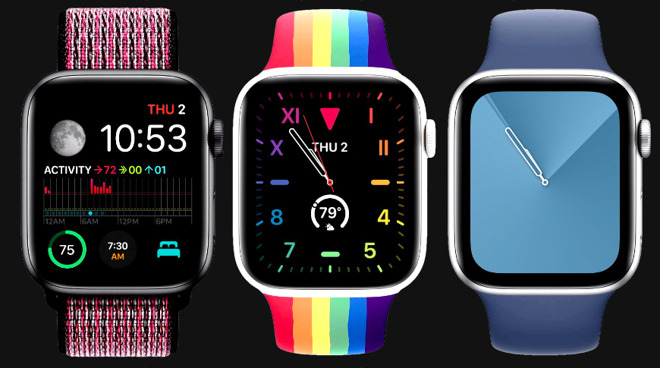 The Apple Watch Series 5
Rumors have suggested the annual
September special event
will center around some of Apple's products, with the "
iPhone 12
" being held back for a later second event. According to one report, that seems to be the case for the imminent event.
According to
sources
of
Bloomberg
, Apple won't be showing off the "iPhone 12," but instead will concentrate on the "Apple Watch Series 6" and the fourth-generation "
iPad Air
."
For the Apple Watch, the report claims it will include a faster processor and the often rumored blood oxygen meter. It will ship in the same 40mm and 44mm sizes as current-generation models, but Apple will also bring out a new low-end version that will be at a lower price point.
Rumors have previously raised the possibility of a
plastic Apple Watch
being released by Apple, which would give it more leverage against firms like Fitbit in the value-end of the wearables market.
Other things that could appear
during the event
for the Apple Watch include a rumored "Kid Mode" for pairing a second watch to an iPhone, mental health tracking functions, and a new app to walk users through workouts.
On the "iPad Air," the publication claims it will lose the Home button for an "all-screen look," mimicking the
iPad Pro
. However, it will use a slower processor and still lack some of the features found in the premium models, such as the ProMotion display.
Earlier rumors
pointed to it being equipped with a 10.8-inch display, thin iPad Pro-style bezels, a possible Touch ID sensor in the power button instead of Face ID, and switching out the Lightning port in favor of USB-C.
The missing "iPhone 12" will be kept until October, the report predicts. Shipments could be even later, possibly in November, like the iPhone X.
Apple Silicon Macs are reportedly in a similar situation, as the "iPhone 12" may be, in regards to a release timetable. The report claims November arrivals of new Macs with Apple-designed processors, but isn't clear on when said Macs would be announced.
The idea of an October launch for the iPhone has been raised quite a few times
in leaks
and rumor reports, with the shipment dates similarly delayed. There has been the suggestion of a
split iPhone release
, with two models arriving in a first phase followed by the other two in a second.
Apple itself
has even alluded to unusual release timings, confirming in a July earnings conference call that the launch would take place "a few weeks later" than usual.