Peloton's CEO calls Apple Fitness+ a 'legitimization of fitness content'
With Apple announcing Fitness+ during Peloton's first investor meeting, Peloton's CEO was immediately questioned about Apple entering the same business.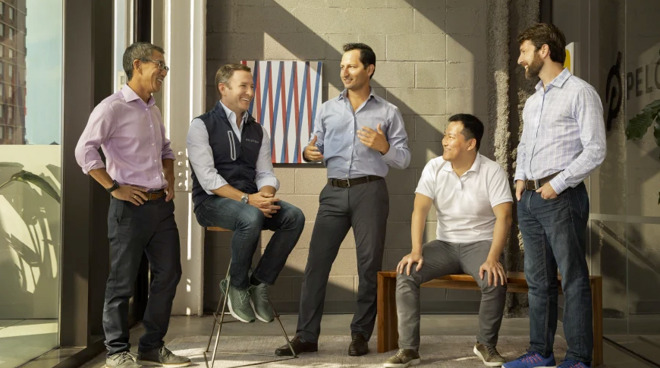 John Foley, second from left, with Peloton Team | Image Credit: Peloton
Apple announced
Apple Fitness+
, a streaming fitness program for
Apple Watch
wearers, at the September "Time Flies" event. The service seeks to combine the health-tracking capabilities of the Apple Watch with instructor-guided workouts.
The move has made Apple a direct rival to Peloton, another company known for making high-end workout equipment -- treadmills and stationary bikes -- and pairing them with streaming fitness content.
The announcement came in the middle of Peloton's first-ever investor meeting as a public company. As a result, Peloton shares dipped slightly, but have been up about 4% just prior to publication.
"We're just digesting the announcement like everybody," Peloton's CEO John Foley
told CNBC.
"The biggest thing I will say is it's quite a legitimization of fitness content, to the extent the biggest company in the word, a $2 trillion company, is coming in and saying fitness content matters. It's meaningful enough for Apple."
He suggested that Peloton continued to distinguish itself by providing equipment, which Apple does not.
"They're not coming into that [hardware] category," Foley said about Apple. "They're just going to be the content. And we think the special sauce, the magic, is our connected platforms and in order to work out at home you need a stationary bike if you're going to be biking, you need a treadmill if you're going to be running."
Peloton's equipment is targeted toward a different audience -- those who are willing to spend thousands of dollars on getting fit. Peloton's cheapest bike costs $1,895, while their Peloton Tread+ starts at $4,295. Peloton offers two different membership options, too. A $13 tier allows a single user to take Peloton fitness classes and doesn't require any Peloton equipment. A $40 tier requires a Peloton Bike, Bike+ or Tread+, and gives a full family access to health metrics, guided workouts, and more.
Conversely, an
Apple Watch Series 3
, the minimum requirement to access Fitness+, costs $199. A subscription to Fitness+ will be $9.99 at launch and will cover up to five family members.
Recently, Peloton
announced
a new Peloton Bike+, which will easily pair with the Apple Watch through GymKit.