Belkin rolls out HomeKit support to Linksys Velop Tri-Band mesh routers
Belkin has finally started to roll out a firmware update for its line of Linksys Velop Tri-Band mesh routers that enables support for
HomeKit
, allowing users to closely manage which devices can communicate with the wider Internet.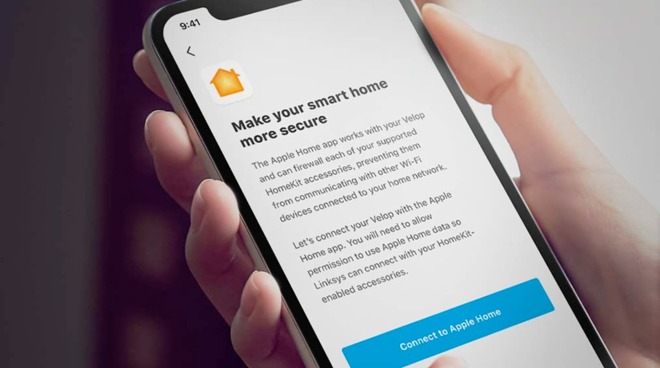 The Linksys Velop app will show if HomeKit is enabled for the router.
Rolling out to Linksys Velop Tri-Band mesh routers, the update aims to make the already secure HomeKit smart home platform even more secure, by managing access. Belkin confirmed HomeKit support was arriving on Tuesday, with a phased rollout taking place across the United States with a limited number of users, before a later rollout to other territories.
Specifically, the update allows users to manage the communications of HomeKit-enabled devices across the network, including whether they can access the Internet or if they are limited to just the home network itself. This also includes being able to firewall HomeKit accessories to prevent them from communicating with other Wi-Fi devices on the home network.
Users will see the support enabled within the Velop iOS and iPadOS app once the router has been updated. Users will have to give permission for Linksys to use Apple Home data to connect with HomeKit-enabled accessories.
Belkin has been relatively slow to bring out updates for its Velop router line that enable HomeKit support. In February, it was claimed to be preparing to issue updates to a small number of routers, but the then-imminent release was denied by Belkin.
Linksys Velop routers compatible with HomeKit
A03
A0301
A0302
A0303
WHW0301
WHW0301B
WHW0302
WHW0302B
WHW0303
WHW0303B