Sonnet unveils new PCIe card for Mac Pro that supports two U.2 SSDs
Sonnet Technologies has unveiled the Fusion Dual U.2 SSD PCIe Card, a new expansion card for the Mac Pro that can support up to two enterprise-class U.2 SSDs.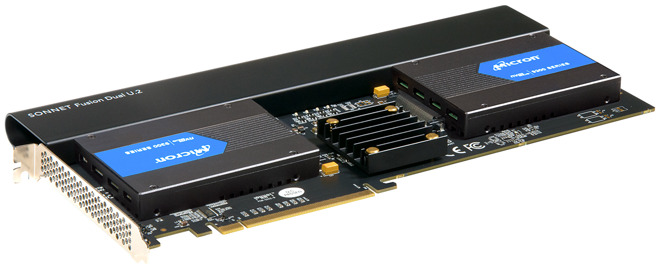 Sonnet Fusion Dual U.2 SSD PCIe Card
The company says the Fusion Dual U.2 SSD PCIe Card is the only product on the market that can support a direct connection to a pair of U.2 SSD cards, making it an ideal upgrade for professional users and
Mac Pro
owners.
Sonnet's new card allows for the installation of two cards in a single full-length x16 PCIe slot with no separate cables, adapters, or mounting trays required. It's compatible with both Thunderbolt 3 and Thunderbolt 2 ports via Thunderbolt to PCIe card expansion system.
"The Fusion Dual U.2 SSD PCIe Card offers many users the most economical way to add ultra-fast, extra-large-capacity storage to their computers -- particularly so for 2019 Mac Pro users," the company said of the upgrade.
For context, U.2 NVMe PCIe SSDs share the same form factor as 2.5-inch SATA drives, but they deliver up to seven times the speed that SATA drives can provide. The U.2 SSDs are sold separately
With a pair of U.2 SSDs installed on the Sonnet card and configured as a RAID 0 setup, the company says that it can deliver sustained data transfer speeds of up to 6,250 megabits per second on the 2019 Mac Pro. The company also says a similar setup can deliver up to 184% faster data performance than a Mac Pro's built-in 8TB SSD.
The Fusion Dual U.2 SSD PCIe Card is compatible on Mac, Windows, and Linux computers, including mid-2010, mid-2012 towers, and the 2019 Mac Pro. It also works in Thunderbolt 3 enclosures -- which would cut back on the maximum delivered speed.
The card costs $199.99
.