Apple investigating Pro Display XDR nano-texture glass for iPhone and iPad
Apple is researching expanding the nano-texture glass that it introduced on the Pro Display XDR, to bring the technology's benefit of greater anti-reflective properties to the iPhone or iPad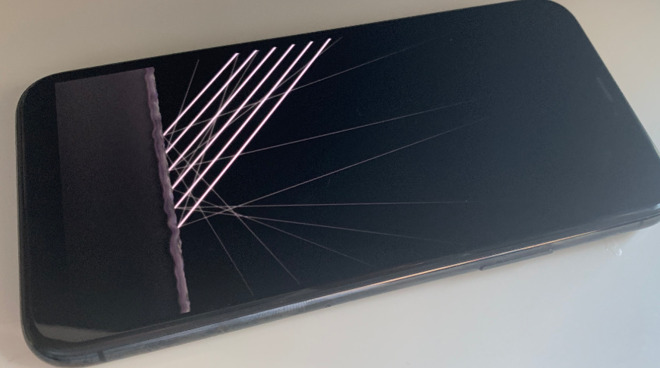 An iPhone showing Apple's slide demonstrating how nano-texture works
Apple introduced the optional
nano-texture glass
surface with the
Pro Display XDR
, and then more recently brought it to the
27-inch iMac
. Now it appears to be planning to deploy it on portable devices, including the
iPhone
and iPad.
"Antireflective Treatment for Textured Enclosure Components," is a
newly-revealed
patent application that is concerned with bringing this technology to more devices. As ever, Apple wants to cover itself for all possibilities, so those devices include "a mobile phone, a notebook computing device (e.g., a notebook), a tablet computing device (e.g., a tablet), a portable media player, a wearable device, or another type of portable electronic device."
And just to be sure, a device with one of these nano-texture screens "may also be a desktop computer system, computer component, input device, appliance, or virtually any other type of electronic product or device component."
However, the drawings concentrate on an iPad-like device, while the rest of the text avoids being specific but does mention phones a couple of times. Whatever the device, Apple is clear that there has to be a display that shows "graphical outputs that are visible through the textured region of the glass member."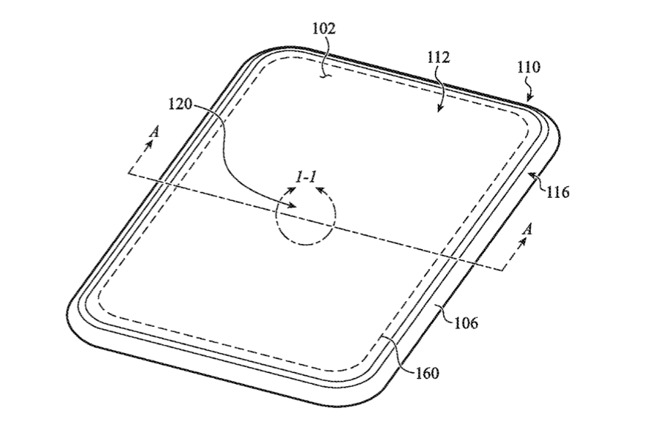 Detail from the patent showing nano-texture glass being used in a portable device
This "textured region" is specified as being "substrate surface, a set of protrusions extending outwardly from the substrate surface, each protrusion of the set of protrusions having a width greater than or equal to about 750 nm and less than about 10 microns." It goes into more detail about these protrusions, but it's ultimately describing methods of etching onto the glass.
"[For instance, chemical] etching techniques for glass members may involve using an acid to remove portions of the glass member," continues Apple. "Etching techniques also include reactive ion etching, which [may be] combined with lithography.
In each proposed system, the end result is a device that has a single piece of glass which has this etched texture. It's this which makes nano-texture work well at reducing reflectivity, as it prevents light being reflected right back at the user.
There are significant engineering challenges to doing so, however. Partially as a result of more surface area, even on the "nano" level, the device may lend itself to scratching more easily. Apple minimizes this by requiring and including a special cloth for cleaning, and it isn't clear how it would further protect a device like an iPhone that is intended to be routinely pocketed by users, sometimes accidentally adjacent to hard debris like sand in the pocket or coins, keys, and other accoutrements of modern life nearby.
The patent application is credited to three inventors, Joseph C. Poole, Matthew S. Rogers, and Naoto Matsuyuki. The latter two have previously worked on a patent application regarding a
possible glass keyboard
.
Read on AppleInsider