Canon unveils EOS C70 Cinema camera with RF mount
Canon on Thursday unveiled the EOS C70 4K, its first EOS Cinema camera equipped with an RF mount and designed to offer cinema performance in a still camera form factor.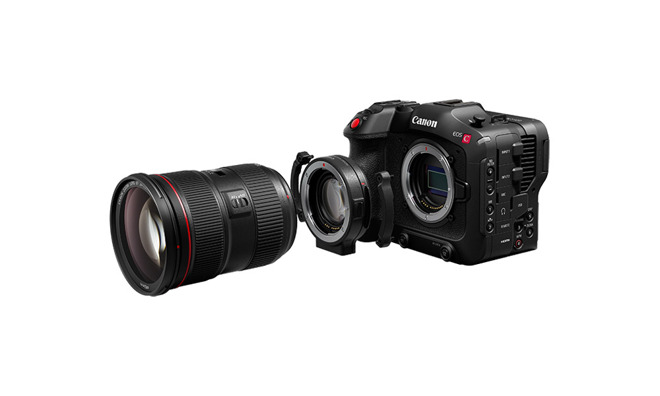 Credit: Canon
The camera is akin to a cross between Canon's standard EOS cameras and a cinema camera, and the addition of an RF mount allows it to take advantage of the same range of lenses offered for its mirrorless devices. As with other cameras in the Cinema line, it's primarily aimed at high-performance video recording and filmmaking.
In contrast to the typically heavy cinema cameras, the
EOS C70
provides similar performance in a more compact and lighter-weight form factor. It weighs just over 2.5 pounds and is actually smaller than DSLRs like the EOS 1D X Mark III.
Alongside the RF mount, the EOS C70 brings other firsts to the Cinema lineup. It features an Intelligence Tracking and Recognition system that recognizes faces and heads using machine learning, and an automatic ISO system for situations where lighting may be changing quickly.
The camera features Canon's Super 35mm DGO 4K sensor, which it says further extends the high dynamic range and lowers noise levels of images. Canon says the sensor provides pictures "up to 16-plus stops of total dynamic range, clean, rich shadows, and vibrant highlights in up to 4K/ 60p or 2K/120p in Super 16mm Crop mode."


Super 35mm DGO CMOS-type sensor

DIGIC DV7 image processor


Slimmer, motorized ND filter


Direct Touch Menu System


Coordinated Electronic Image Stabilization


Two built-in mini XLR inputs


Time code input/output terminal


Support for Canon RC-V100 remote


Dual SD card slots


HDMI, USB-A, and 3.5 mm headphone jack


Built-in stereo mic


It also supports 9x16 vertical shooting, and features a built-in mini-XLRS and a neutral density filter system.
The EOS C70 seems aimed at filmmakers and documentarians who need a more compact device, as well as creatives and social media influences.
Canon says the EOS C70 is slated to debut in November 2020 for $5,499. Interested buyers can preorder the camera
at B&H Photo
and
Adorama
.