Mercury Pro LTO by OWC offers future proof Thunderbolt 3 LTO-8 archiving
The Mercury Pro LTO is a
Thunderbolt 3
integrated tape backup and archiving solution that offers 12TB of uncompressed storage per LTO-8 tape for up to 30-year archival storage.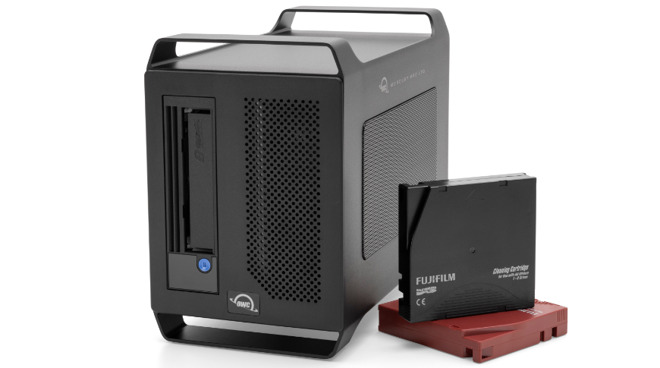 The Mercury Pro LTO provides top end performance data integrity and utilizes industry standard Thunderbolt 3 and future Thunderbolt 4 equipped computers. Utilize the latest 12TB LTO-8 tapes, previous-generation 6TB LTO-7 tapes, and even the future release LTO-9 drives.
The Linear Tape-Open (LTO) tapes are formatted with the Linear Tape File System (LTFS), the tape can be accessed on your computer just like a hard drive or SSD. Files appear in folders and moving them to and retrieving them from tape is as simple as dragging and dropping files.
Features and Specs
12TB per tape or 30TB when the data is compressed
Uses IBM-LTO-8 Ultrium Drive
30-year tape longevity
LTFS compatible
Supports AES 256-bit encryption
Supports WORM cartridges
Tape creation speeds up to 360MB/s transfer rates
Add an optional 2.5/3.5-inch HDD or SSD for up to 16TB
Second Thunderbolt 3 port for adding up to five additional Thunderbolt devices
DisplayPort 1.4 supports up to an 8K display
Charges connected laptops at 85W
Built in handles for easy transport
OWC says that the 10-year total cost of ownership of LTO tape-based archiving provides 577% ROI. This is due to a cheaper cost per terabyte and long life expectancy of stored data.
Where to buy
Customers can configure the drive with 10TB, 12TB, and 16TB HDD; 1TB, 2TB, and 4TB SSD; or order the drive without a staging drive. The Mercury Pro LTO is available to order now from
MacSales.com
for $4,499 and includes the myLTO software, LTO-8 tape and cleaning cartridge.