Apple buys podcast app Scout FM amid increased competition from Spotify
Apple this year purchased Scout FM, a startup that used artificial intelligence to curate and deliver podcasts to users, according to a new report.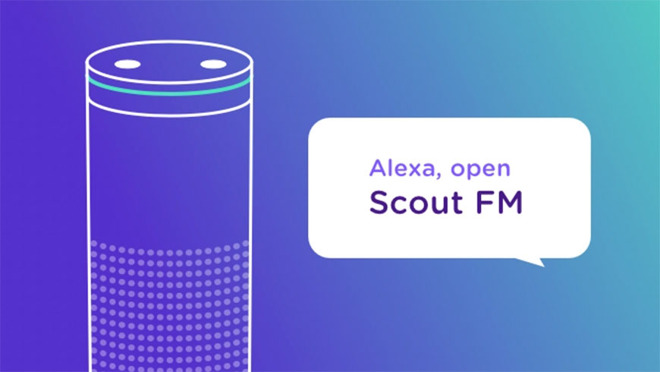 Citing sources familiar with the matter,
Bloomberg
reports Apple
bought
Scout FM earlier this year, though an exact date and transaction value were not revealed. The company ceased operation following the buyout.
An Apple spokesperson confirmed the acquisition.
A popular app on both iOS and Android, Scout FM provided podcasts in a more digestible format. Whereas apps like Apple Podcasts require listeners to select shows, the startup offered themed "channels" with custom curated content in a system that resembled terrestrial radio programming.
Like other curated content apps, Scout FM relied on user listening habits, stated preferences and other metrics to create customized podcast playlists, the report said. According to a
TechCrunch
report published in 2018, the service
was able to create
a curated podcast station based on a few questions that were asked to determine user preference.
Scout FM initially targeted smart speaker platforms and started life with experiments running on Amazon's Alexa. The product launched with 30 Alexa skills including a "Game of Thrones"-themed radio station. Apps for iOS and Android followed.
News of Apple's Scout FM buy arrives as digital content market competitors ramp up their own podcast offerings. Music streaming leader Spotify, for example, is quickly building out its podcast library and has scored
exclusive contracts
with popular broadcasters including Joe Rogan.
Apple was a major force in establishing podcasting more than a decade ago (the term is derived from audio content made for consumption on iPod). After leaving the platform to grow organically, the tech giant more recently has showed a renewed interest in the medium and is consistently updating its Podcasts app with new features.
In June, reports claimed Apple was
working to bring
Apple Music-style "For You" profiles and bonus content to its first-party app. Whether the rumored service incorporates Scout FM technology is unclear.
Apple has completed a number of acquisitions this year, including payments tech startup
Mobeewave
, enterprise device management company
Fleetsmith
, AI firm
Inductiv
and VR streaming firm
NextVR
. Most recently, reports in August claimed the iPhone maker bought
Spaces
, an AR technology startup spun out of DreamWorks Animation.