Creating AppleInsider's new video production studio - the beginning
Recently, the AppleInsider YouTube channel has surpassed yet another milestone -- 500,000 subscribers. But we aren't stopping there. The next step for AppleInsider's video efforts is a new dedicated shooting studio.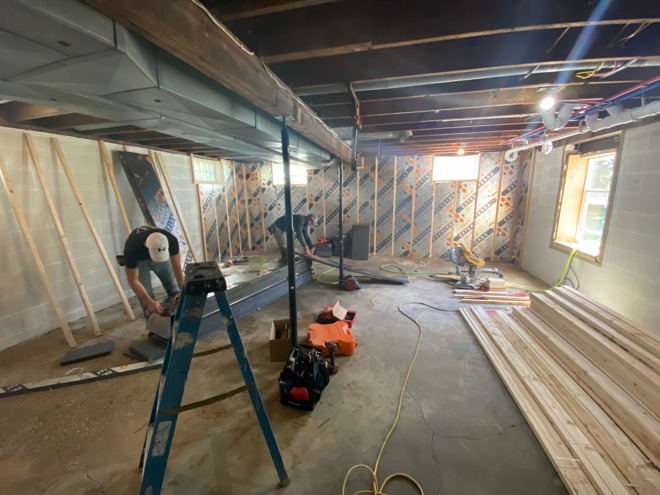 Construction on the new studio
AppleInsider's
video production continues to grow. We publish between
four and seven videos a week
when it's slow, with more during the busy months around Apple's well-choreographed product launches.
To accommodate that amount of shooting and plan for the future, we need a larger space that eradicates the pain-points of the existing setup.
Currently, all production is accomplished in a ten foot by eight-foot room. It is manageable but tight. Our studio lighting, camera tripod, microphones, desks, all take up a large amount of that space, which can make working effectively and efficiently more challenging than it has to be.
When Apple launches new
iMacs
, the boxes -- and the boxes within those boxes -- eat up any space in the studio, making it frustrating and uncomfortable to shoot in. Not to mention that because the set of the studio doubles as a work desk, it needs to be changed and reset when it's time to shoot video. Not ideal.
As we set out to design the new studio, there were several things on our list that were vital to improving the workflows crucial to video. They aren't specifically unique to
AppleInsider
, but they are easy to overlook when it's time to expand.
Lots of power outlets in necessary locations


Hardwired Ethernet ports


Improved, mounted lights to ditch the massive lighting stands and better light the space


A permanent shooting set


Both a standing set as well as a desk set


A new top-down rig


Ample storage


Charging bay


HomeKit control


Crucially, great soundproofing
While the studio is still being built, we think we've managed to check every item off this list.
Andrew's new studio: The setup
Our new space is a 20-foot by 20-foot space, versus the existing ten-foot by eight-foot studio. This room will be home to shipping boxes, filming equipment, and all the accoutrements of video production. Right inside the door to the left will be a series of angled shelves that will hold large battery charging stations, camera lenses, battery packs, filters, and other mobile gear. They will be quick to grab and can be powered from the outlet placed right below.
We usually have piles of loaner units, generations of iPads, iPhones, Android phones, and much more that also needs to be safely stored. On top of that, there are shipping boxes that need to be kept to return review products, associated shipping labels, paperwork, and so much more. This storage room will have enough space -- at least for now, and the immediate future -- to hold all of this and keep the studio clean, bright, and open.

Empty room before construction (left) and framing complete with insulation (right)
The walls of the studio are insulated, more for additional sound dampening than climate control. The top of the room was covered in a thick coating of spray foam insulation that also is intended to deaden sound and eliminate any echo.
Depending how the room comes together, additional soundproofing may be needed, but we won't know this for sure until we start really testing the limits of the design. If we need it, we've picked matte black foam to help absorb any light and reduce any unintended light bounces.
We've placed myriad AC outlets around the room, including two high wall outlets that will be used for TVs and then a ceiling outlet that will power the primary filming light. That LED light and diffuser will be ceiling-mounted so we will have no extra power cables or stands taking up space. Since it is being mounted in place, It also won't need repositioned each shoot.

Storage room framed (left) and electrical boxes installed (right)
For ambient lighting in the room, we went with six LED can lights -- one of which is in the closet. The five lights in the main room are split into two circuits. That way we can turn off the lights above the set as well as the ones in the rest of the room independently.
Those lights can have their temperature adjusted from warm to cool. For day-to-day use, we set them to be more cool daylight to promote productivity rather than warmth.
There are two Ethernet lines into the room for networking. We're using Gigabit Ethernet today, but they will support 10-Gig Ethernet in the future as we adopt more 10-Gig hardware. This allows us to have low-latency networking with fast speeds to and from our production Mac Pro and associated networked storage.
There will be two new sets for shooting. One is a. standing set, similar to how we film our A-roll now, as well as a new desk where it is a bit easier to film hands-on reviews. Rather than having to cut to a lot of b-roll, we can have the devices in my hand and utilize a new top-down rig, a closeup side camera, and the main front-facing camera. This gives us much more flexibility when it comes to editing to tell the story.
The primary light and diffuser, the one mounted to the ceiling, will be able to rotate and provide light for both the desk set as well as the standing set.
For the floor, we went with a laminate wood flooring that was rated best for sound dampening and appropriate backing material that was also supposed to aid with sound.
Taking shape
Thus far, the walls have been framed, insulation has been installed, power and Ethernet has been run, the ceiling has been insulated, and the drywall has been hung.

Ceiling eletrical boxes (left) and first round of spray foam insulation on the ceiling (right)
This project won't be done today, and not even this week. There's still mud to smooth out on the drywall which will take a few more days before it can be sanded, the floor needs to be installed, the walls need to be painted, the various smart switches and outlets need to be installed, the ceiling needs to be painted, and the doors installed before we can start making the move.
It has already been a massive transformation from an empty space to a room with walls, power, insulation, and everything else. But, the studio is taking shape and finally, it's easier to see how everything will be laid out, and we can start thinking about workflow modifications.

Finishing up the drywall work
While the room is finishing up, there is still much to do. A lot of custom shelving needs to be installed, special battery stations need to be mounted, organizational tool adoption needs to improve, more soundproofing needs to be considered, all the production hardware has to be migrated, and testing on set needs to be satisfactorily completed before the first video can be shot.
The end goal here is to have the new AppleInsider studio fully operational prior to the iPhone 12 launch. There will be a lot to do, so we'd like to knock out the kinks before the phones arrive, and hit the ground running with a whole new level of production quality.
We're already talking about the week-to-week evolution on our HomeKit insider podcast. We'll be writing more about it closer to the finish, and specifically address more design decisions, snafus along the way, as well as a discussion of the large array of HomeKit functionality that will be built-in.
If you haven't already,
subscribe to AppleInsider on YouTube
to see how the new studio looks once it's complete.