Google paying $1 billion to publishers for content in new News Showcase
Google is planning on paying news publishers more than $1 billion for a new initiative dubbed Google News Showcase, a project aimed at creating and curating high-quality journalism.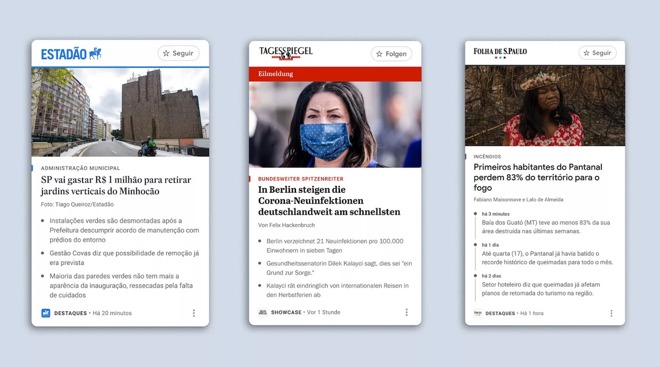 Credit: Google
The search giant first announced that it was developing a "new news experience" over the summer, suggesting that it will pay publishers and media outlets to license content. In a
blog post
on Oct. 1, Google and Alphabet CEO Sundar Pichai said that the company will pay publishers more than $1 billion over a three year period to "create and curate high-quality content" for Google News Showcase.
Google News Showcase will first launch in Brazil and Germany, and will be available initially on Android before launching on
iOS
.
The showcase will sport a new set of features aimed at guiding readers to higher-quality journalism and overall information, including the ability for publishers to package stories with greater context and elements like timelines and video briefings.
Alongside those elements, Google is also offering free access to select paywalled content in the hopes that readers will one day subscribe to a media outlet. Users will also be able to customize their feed by following specific publishers.
Compared to previous efforts to highlight high-quality journalism, Google News Showcase will rely much more heavily on human curation and the editorial decisions of publishers. While Panels will still surface based on Google algorithms, publishers will be curating the content featured within them.
The showcase also helps deal with some of the complaints publishers have had with news curating services like Facebook and Google. Google News Showcase panels link directly to a publisher website, mitigating some of the hit to monetization.
Google and Facebook have historically resisted legislation that would force them to pay publishers. Facebook, for example, threatened to
pull news stories
out of Australia if legislation that would require them to pay media outlets. Google, for its part, appears to have warmed to the idea -- particularly when it's on its own terms.
News publishers have long complained that technology platforms steal revenue and minimize their brand.
The New York Times
, for example,
pulled out
of
Apple News
in June over a lack of connection with readers. Publishers have also raised concerns about new features in
iOS 14
that could
redirect
users from their websites or
threaten advertising revenue
.