Review: Hue's multi-color gradient light strip is great for the TV, but needs updates
While Signify's new Hue Gradient Play Light Strip is underwhelming from a
HomeKit
perspective, it is the best way yet to sync your TV to your lights.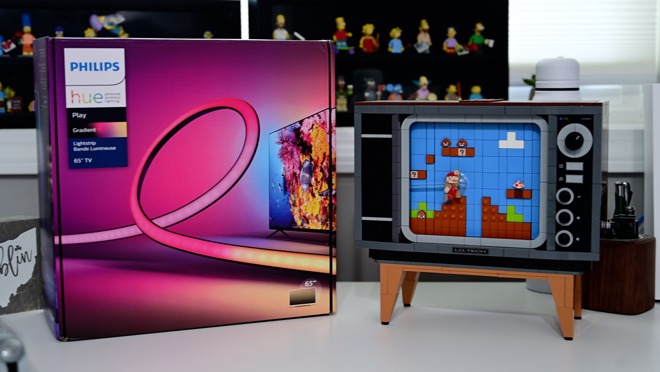 The Philips Hue Play Gradient Lightstrip
The best way to watch a movie
Over the years, Signify has continued to add new products to its Philips Hue platform. We've seen bulbs of every shape and size, new fixtures and lamps, as well as a bunch of Friends of Hue companion devices. Nearly of which work with Apple's HomeKit platform.
Top features of the Hue Gradient Play Light Strip
Seven addressable zones


1100 lumens


Comes in sizes for 55, 65, and 75-inch TVs (fits other sizes in between)


Works wirth Apple HomeKit


Designed to work with Hue HDMI Sync Box


Flexible silicone material
Recently, we
saw the debut
of the
Hue Gradient Play Lightstrip
, which was a huge step forward for Hue. Hue's light strips have been quite similar to many others, in that they are flat, trimmable strips that could be mounted in many places. But they could only emit one color at a time.
This new light strip is capable of showing multiple colors at the same time. It is relying on a new technology for Hue to create not only multiple addressable zones but smooth transitions between those zones and colors.
There is future potential here, but right now, it feels very limited in this rather niche product.
A TV light strip
Rather than being mounted under cabinets, down stairs, or behind a desk, the new Hue Gradient light strip is intended to be mounted to the rear of your TV and paired with the Hue HDMI Sync Box.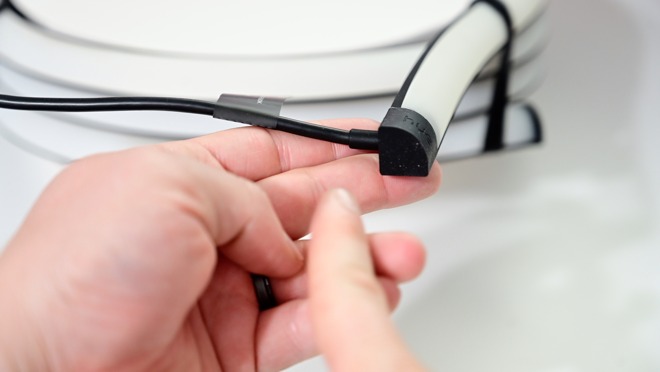 Side view of the new Hue Play Gradient Lighstrip
The strip has a unique shape with two black flat sides, perpendicular to each other. Then the semi-opaque lit portion is curved between. When mounted, it helps distribute the light out at a 45-degree angle which is ideal for a TV backlight.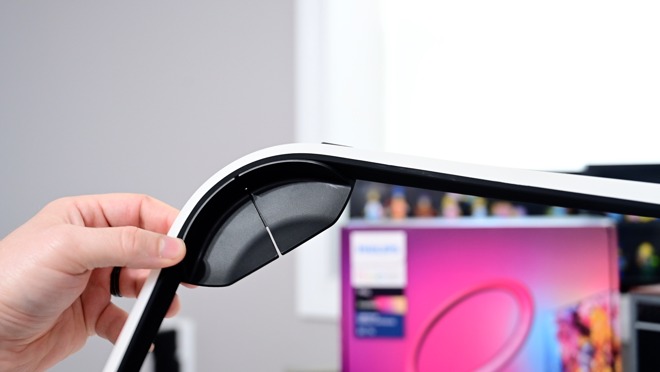 Hue's new light strip connected to the corner mount
The light strip comes bundled with all the mounting hardware you need -- two corner mounts as well as three straight mounts. You mount one in the top center of your TV, the corners exactly where you'd expect, then the last two straightaways at the bottom of each side. Adhesive is already mounted on the back of each so application is easy.
Signify has thought through all the small details. On the back of our TV, the back panel is tapered, which makes applying a flat corner mount impossible. So the Hue mount is flexible, allowing it to be mounted and stay flush.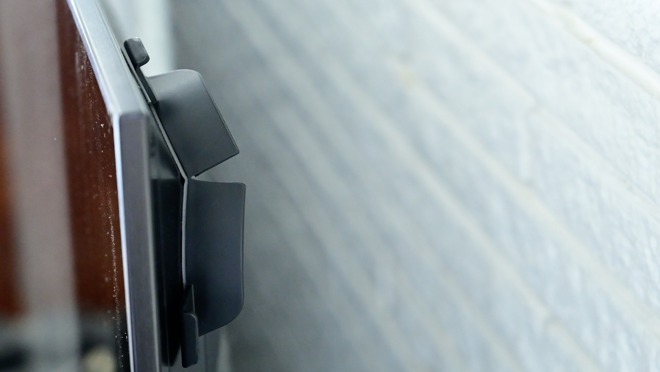 Corner mount flexes to the back of the TV
Once the mounts are placed, the light strip just squeezes into place. It is held firm but not too hard to mount or take out. The power connector also juts out at a right angle towards the middle of the TV so that it stays away from the side or bottom.
Setup and use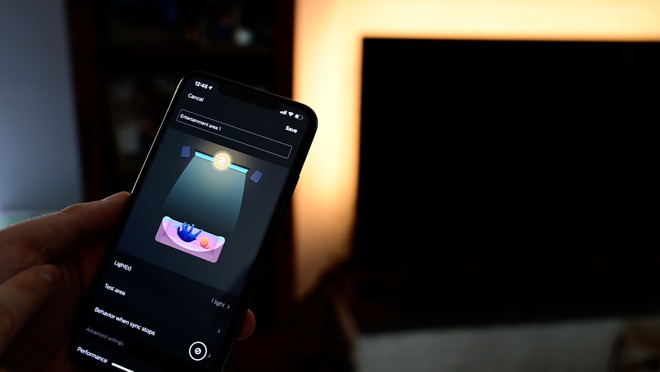 Creating an entertainment area in the Hue app
Once connected, the light strip is added to the Hue app just like any other Hue light. It connects over Zigbee just the same. Once paired, you can change the color of the entire light strip. But an unfortunate limitation of the software is that you can't set multiple colors on the strip manually.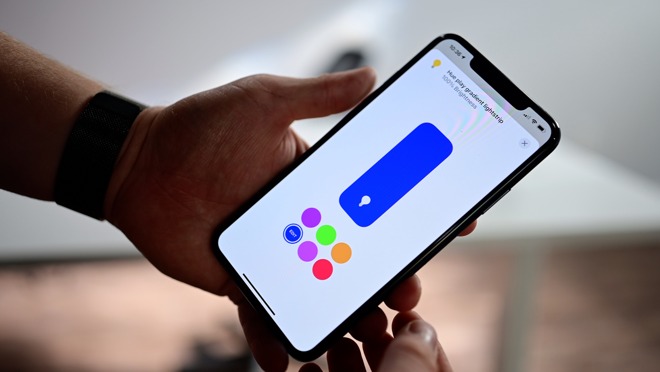 Control the light strip with HomeKit
HomeKit support is equally limited. You can control the light, change its brightness level, schedule it, create automation rules, and change the color of the whole light strip. Again, you can only change the color of the entire light strip rather than selecting multiple colors at once.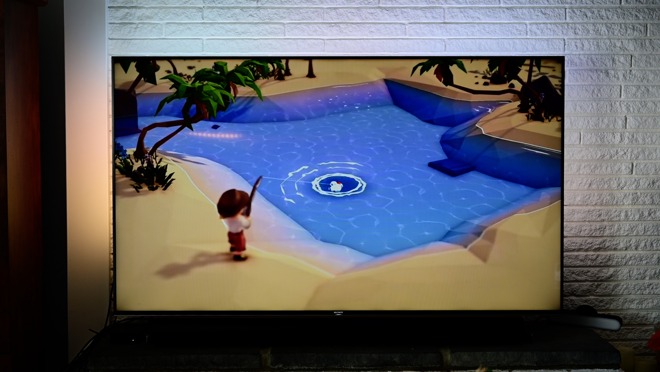 Hue Gradient Lightstrip example
To realize the full potential of the Hue Gradient Play Light Strip you need the
Hue HDMI Sync Box
. It isn't required to use the light, but limits you if you don't have one.
This small box accepts multiple HDMI inputs and passes the video through the TV. While doing so, it analyzes the video feed for dominant color and paints the wall around your TV in corresponding colors.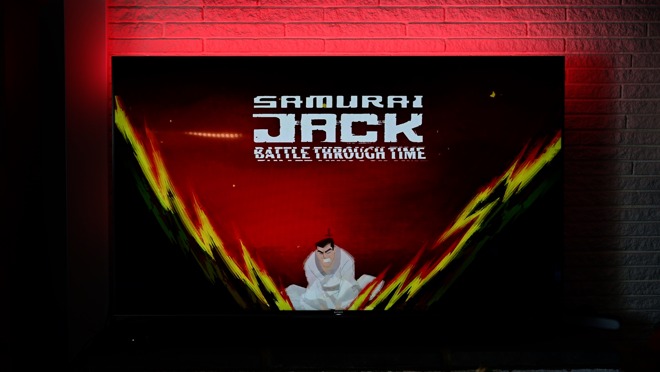 Hue Gradient Lightstrip example
Previously, we used the Hue Play light bars -- one on each side of our TV and one at the top. They worked well, but were smaller, still only had three colors at once, and sometimes weren't perfectly synced with the TV.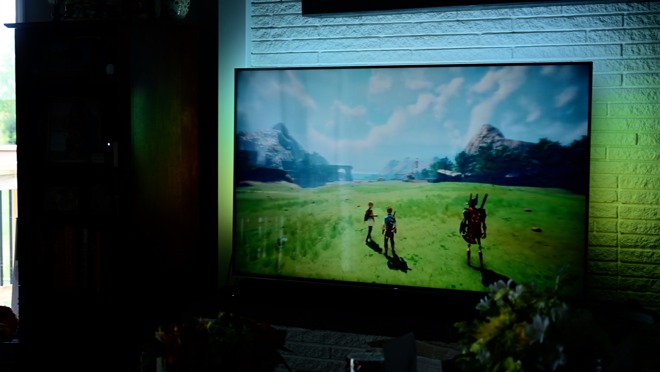 Hue Gradient Lightstrip example
We upgraded from those light bars to the Hue Play Gradient Lightstrip and is a much better experience. As you can see from the samples above and in our video review, the light syncs very reliably to what is on the screen. Additionally, it creates a much more immersive lightscape with multiple colors. It goes around all three sides of the TV, including the corners.
It is by far the best setup yet for syncing our TV with our lights.
Should you buy the Philips Hue Play Gradient Lightstrip?
What disappoints us with the new lightstrip, is that it is limited to use with a TV. The tech is cool and it looks great, so we want it in more places throughout our home. We'd love to see a lightstrip for our cabinets, desk, stairs, mantle, and much more with multiple colors. We want to see the ability to set those colors from the Hue app.
Going further, we can't wait to see Signify integrate this technology into other lights. Maybe in candle bulbs that can show red, white, yellow, and orange at the same time to create a flame effect, or pendant lights hanging above our dining room table with multiple colors at once.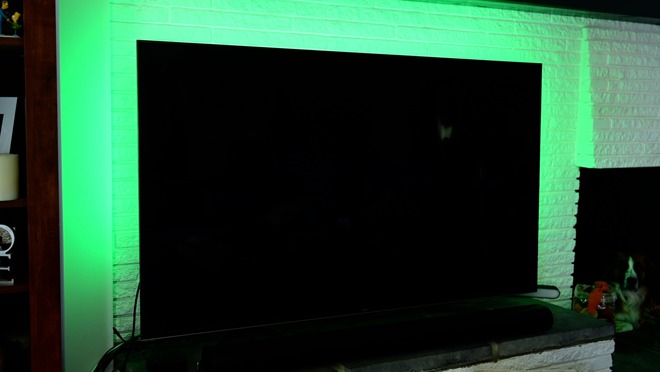 A single color on the Hue Gradient Lightstrip
That isn't to entirely discredit the Hue Play Gradient Lightstrip. It looks fantastic and we can't say enough good things about using it with our TV. It looks incredible and exactly what we needed right now while movie theaters are out of reach and we crash on our couches to binge new films.
If you have the Sync Box, or are considering picking one up, then the Gradient Light Strip is the best way to utilize it.
Pros
Easy to setup and mount


Looks fantastic with Hue Sync Box


HomeKit support


Technology likely coming to other products in the future


Multiple sizes to fit most TVs
Cons
Limited features without Hue Sync Box


Can't set multiple colors manually


No support for small TVs
Rating: 3.5 out of 5
Where to buy
You can order the Philips Hue Gradient Lightstrip
direct from Hue's website
. It comes in sizes for 55-inch, 65-inch, and 75-inch televisions though they will fit additional sizes in between based on how they are mounted. The new Philips Hue Play Gradient Lightstrip starts at $199 and goes up to $239.