Apple Card, Apple Pay could be Apple's next multi-billion dollar businesses
Investment bank Cowen forecasts that Apple's payment services, like
Apple Pay
, are well-positioned to take advantage of the growing fintech and retail markets.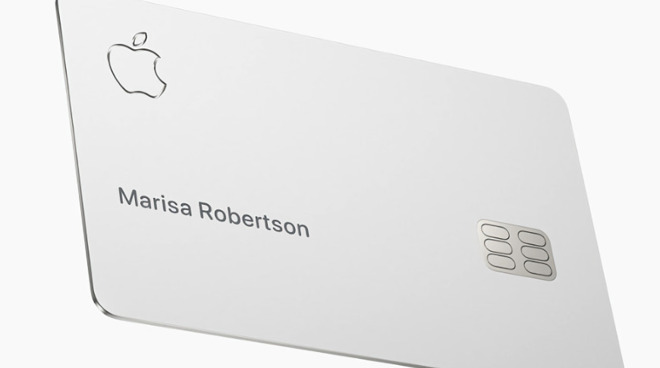 Credit: Apple
In a note to investors seen by
AppleInsider
, lead analyst Krish Sankar notes that Apple's digital payment platforms are a "fast growing but underrated part" of the company's services business. The category includes Apple Pay,
Apple Card
, and Apple Pay Cash.
All three payment services have, collectively, shown growth of around 100% year-over-year, the analayst said. The ongoing
coronavirus
pandemic also appears to have accelerated growth and adoption of the financial technology (fintech) services.
"While Apple has portrayed these digital services as complementary to its mobile hardware platforms, we believe future scaling out of these services globally coupled with increasing depth and sophistication of them could position Apple as an emerging contender in the fintech space," Sankar writes.
Within Apple's fintech segment, the analyst expects Apple Pay to remain the cornerstone. The platform could see increasing acceptance at U.S. retailers, and Sankar predicts that the contactless payment service will be the largest revenue driver over the next few years, with an expected $800 million in growth annually.
Sankar sees Apple Pay growing at an 18% compound annual growth rate (CAGR) through 2023, and markets such as Asia and Europe could allow for even further expansion.
The Apple Card, largely off to a slower-than-expected start, could take over as Apple's primary fintech growth driver after 2023. Cowen predicts that Apple Card could grow at an 89% CAGR to $1.2 billion by 2023, based on a "conservative 2-3% penetration rate into digital-based global retail spending."
The analyst said he believes Apple receives a 1% fee for all transactions made with Apple Card. That's in-like with other card issuers, but could end up "the most lucrative opportunity longer-term compared to the Pay and Cash products."
Apple Pay Cash, the company's peer-to-peer payment system, is also very "complementary" to Apple's other fintech products. Cowen is modeling that Apple Cash will see growth, but may remain under $100 million over the next few years. That's because only a small percentage of cash transfers are "instant," which is the only type that generates revenue through a 1.5% transaction fee.
Cowen is modeling that growth from the Apple Card and market penetration in North America could see Apple's fintech segment becoming the next multi-billion dollar business by 2022.
"We expect Apple to remain focused on penetrating the North American market and ultimately the European one as well given the high usage of credit cards and different forms of digital payments including online and mobile/contact-less payments," the analyst wrote.
Taking a broader view of the $25 trillion global retail spending opportunity, Sankar sees retail spending hitting $4.2 trillion in 2020 and rising to more than $6 trillion by 2023. He assumes Apple Card market penetration to double to 2.1% over the same period.
Sankar is
maintaining
his 12-month AAPL price target of $133, which is based on a 25x earnings multiple on Apple's core hardware products and a 41x multiple on Services.
Shares of AAPL were trading at $114.74 on Monday morning, up 1.50% in intraday trading and 1.64% since Sept. 8.