Apple Carnegie Library wins American Architecture Award in restoration and renovation cate...
Architecture studio Foster + Partners has received an American Architecture Award for its renovation and revitalization of the Carnegie Library of Washington D.C., which now hosts Apple Carnegie Library.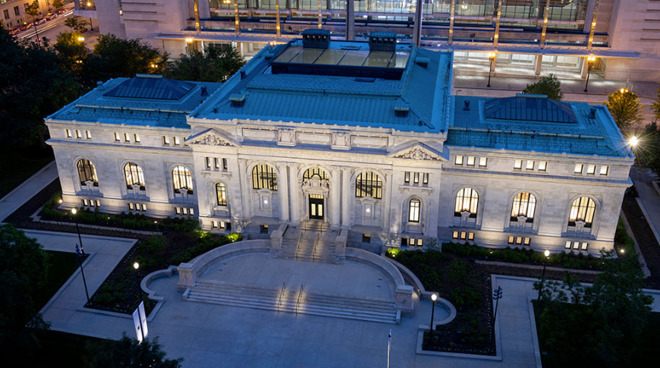 Image Credit: Athenaeum of Photography
Opened in 1903, the building served as Washington D.C.'s first public library and its first desegregated public building. The building, initially designed by Ackerman & Ross, is well known for its Beaux-Arts style that draws heavily from French neoclassicism, gothic, and Renaissance elements.
The building had fallen into disuse between the turn of the twenty-first century and 2017 when Apple began renovating the library into the city's second Apple Store location,
Apple Carnegie Library
.
The renovation was undertaken by Foster + Partners, a British international architecture design headquartered in London. The renovation took approximately two years, with the location reopening in May 2019.
The interior has been renovated using materials fitting the historical surroundings and inspired by the distinctive twentieth-century detailing. It is also notable for its effort in sustainability -- the building features reintroduced natural ventilation and "makes generous use of daylight," according to the American Architecture Awards'
writeup.
Like many of Apple's retail locations, Apple has hosted free "
Today at Apple
" sessions focused on photography, music production, coding, and videography within the store. Apple also filmed the first episode of "
Oprah's Book Club
" for
Apple TV+
at the location as well.
Also housed in the building is the D.C. History Center, located on the second floor, as well as the Carnegie Gallery, located in the basement.