Morgan Stanley raises AAPL target to $136 as iPhone 12 'revs the growth engine'
In the wake of Apple's Oct. 13 event, Morgan Stanley has raised its AAPL price target to $136 on the potential that the iPhone 12 and
iPhone 12 Pro
lineup has to drive product revenue growth into 2021.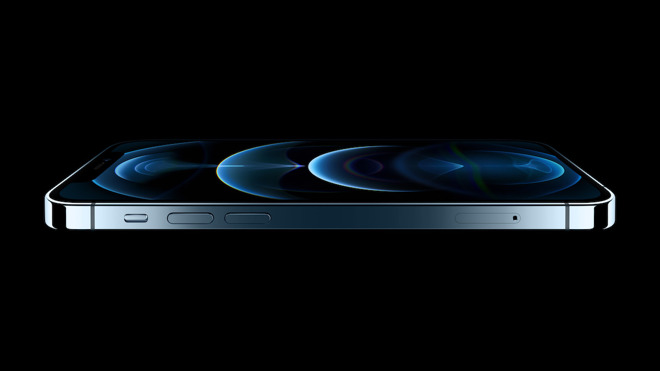 Credit: Apple
In a note to investors seen by
AppleInsider
, Morgan Stanley analyst
Katy Huberty
writes that she believes Wall Street has "mis-modeled" Apple's forward growth due to retail shutdowns and the economic impact of the
coronavirus
health crisis.
Huberty is maintaining the bank's iPhone shipment forecast of 220 million, which is about 4% above consensus. On the other hand, the analyst is raising its 2021 revenue and earnings-per-share (EPS) estimates based on slightly higher iPhone average selling prices (ASP) after the iPhone 12 and iPhone 12 Pro launch.
That's because the
iPhone 12
,
iPhone 12 mini
, and
iPhone 11
prices are abut $50 higher than Huberty previously modeled. Morgan Stanley is raising its 2021 ASPs to $775, higher than the previous number of $772 and Wall Street's consensus of $763.
That places more upward pressure on ASP assumptions, despite the fact that Huberty believes the higher prices will lead to a "slightly higher mix of older iPhones." The launch does mark the first time that Apple has revealed five iPhone models in 12 months, and the new lineup has a much broader range of form factors and price points.
Although there weren't many surprises at the event, Huberty notes a few, including the fact that mmWave didn't translate to more expensive devices; earlier ship dates for the iPhone 12 and iPhone 12 Pro than what bears originally assumed; and the focus on multi-player gaming and augmented reality as ways to highlight 5G compatibility.
On the
HomePod mini
, Huberty says that the lower-cost smart speaker could grow Apple's total available market by 3.6x and help it expand beyond its current 5% market share. But she says that the "lack of killer apps and Spotify integration" will likely limit adoption.
In a broader view of Morgan Stanley's IT Hardware tracking, the bank said in a separate note that the iPhone 11 is still driving market share gains in China with 20.1% of the market at the end of September. Apple's Asia-based supply chain partners are also starting to show early signs of iPhone 12 production ramp up
On the economic impact of COVID-19, Huberty notes that Apple's retail reopening are nearing a new high since the pandemic, while consumer electronics demand continues to improve globally -- an important trend for Apple.
Huberty is raising her 12-month AAPL price target to $136, up from $130. That's based on a 5.9x enterprise value-to-sales multiple on Apple's product business and a 10.5x EV/Sales multiple on Apple's Services business. That results in a 6.7x EV/Sales multiple for 2021, and a target 33.3x price-to-earnings multiple for that year.
A bull case, in Huberty's view, would result if Apple iPhone shipments hit 240 million units in 2021; if Services grew 16% year-over-year; and if Apple's total product revenue growth hit 31%. The bank's bull case price target is set at $171.
Shares of AAPL are trading at $121.47 on Wednesday morning, up 0.38% in intra-day trading and down 1.19% since Apple's 10 a.m. keynote on Oct. 13.