Apple editorial chief chats about Apple Music TV, Springsteen takeover
Apple Music
's editorial chief recently sat down to speak about the new Apple Music TV channel, including the upcoming Bruce Springsteen takeover and what a typical hour for the stream would look like.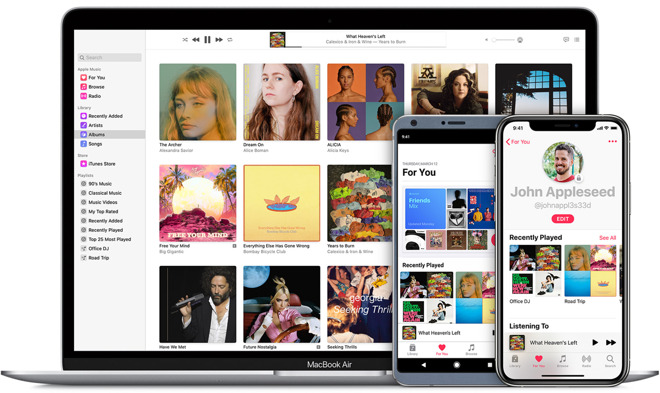 Credit: Apple
On Monday, Apple
launched
a 24-hour curated music video channel dubbed Apple Music TV. Shortly after, Apple Music global head of editorial and content, Rachel Newman,
spoke
with
Variety
about the new channel.
In that interview on Monday morning, Newman told the publication that the basis for Apple Music TV will be "contemporary hits," with a focus on music videos and short-form video content.
"It's really contemporary, well-known hits, so if we have a sample representation of artists, it would be Drake, Dua Lipa, Cardi B, BTS, Justin Bieber and Billie Eilish," Newman said.
Apple Music also produces video content in support of its radio efforts, and those clips will also stream on the new channel. That could include interviews with artists, as well as short clips that could feature an artist talking about a specific track or album.
Occasionally, Newman noted, there would be long-form video pieces around special events like the upcoming
Bruce Springsteen takeover
.
Although the Springsteen album is a bit "outside the station's usual purview," Newman said that Apple Music TV will "eventize some of the more important things to use," and added that the Springsteen takeover is meant to celebrate the
Apple TV+
documentary. The documentary will
launch
on the Apple streaming platform Friday.
When asked about whether Apple Music TV will feature documentaries, Newman suggested that Apple TV+ would continue to be the primary home for them. But she added that if there's a music-related documentary, Apple Music TV could support the film with special content or events.
The Apple editorial chief also said that there wouldn't be any ads on the channel, and that it's managed by existing teams like Apple Music's radio and editorial staffs.
Variety
also pointed out that there hasn't been a music video-focused streaming channel on this scale since MTV. In addition, the publication asked what role Apple Music TV will play in the company's broader music goals.
"I think the purpose of this is really to create another space for consumers to enjoy music. We want to serve all kinds of music lovers, and often even lean-forward music fans want a lean-back solution that they can set and forget," Newman said. "We just think it's an awesome way to experience music."