'No Time to Die' sale could have reached $600M
The upcoming James Bond film "No Time to Die" may not head to
Apple TV
or other streaming services for a premiere after all, but it seems studio MGM did explore the possibility of selling the movie with a $600 million price tag.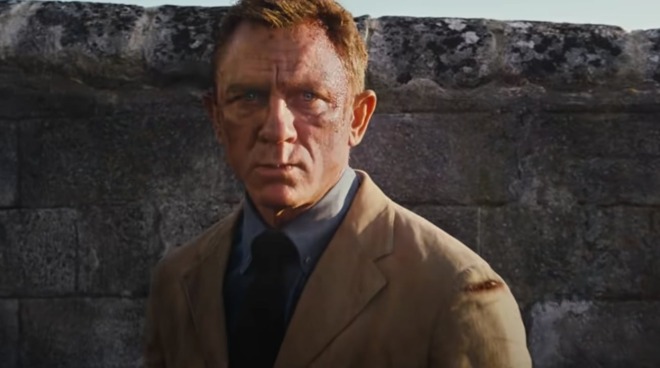 Daniel Craig in the trailer for 'No Time to Die'
Reports surfaced in October that the repeatedly-delayed Bond movie "No Time to Die" was being
shopped around
streaming services for a potential sale, rather than delaying the film's release any further. In an update on Saturday, studio MGM has insisted the sale to Apple or any other streaming provider isn't happening.
"We do not comment on rumors. The film is not for sale," a spokesperson
told
Variety
. "The film's release has been postponed until April 2021 in order to preserve the theatrical experience for moviegoers."
Report sources claim a potential sale was explored, with MGM interested in such an offer, but only at a high price. Insiders suggest the deal would have cost the eventual buyer roughly $600 million, which was apparently too high for streaming services to undertake.
While seemingly quite high, streaming services have been known to pay out considerable sums for content. For example, Apple's purchase of
Tom Hanks epic "Greyhound"
was reportedly to the tune of $70 million.
The high price is likely to have been attributed to the perceived strength of the James Bond brand, as well as a need to recoup the costs of production. The film is said to have cost in excess of $250 million to produce, though that was offset by promotional partnerships with Land Rover, Omega, and Heineken.
It is highly probable that those companies wouldn't be keen on a streaming-only release for the film, given their marketing efforts. If the promotional partners wanted a partial refund on what was paid to MGM, the studio would have to factor that into an eventual sale, as well as having the firms agree on such a sale to begin with.
As movie studios are continuing to feel pressure to offload their properties to streaming services due to the ongoing coronavirus pandemic causing issues for theater revenue, it is likely more deals such as that of "Greyhound" will take place for the foreseeable future.