Reviewing the iPhone 12 Pro and new iPad Air on the AppleInsider podcast
Checking out the new iPhone 12 Pro in the real world, including the hunt for 5G, the search for uses for LiDAR features, and whether you should upgrade or not. Plus the new iPad Air is finally out, and there's Apple TV+ news to cover too.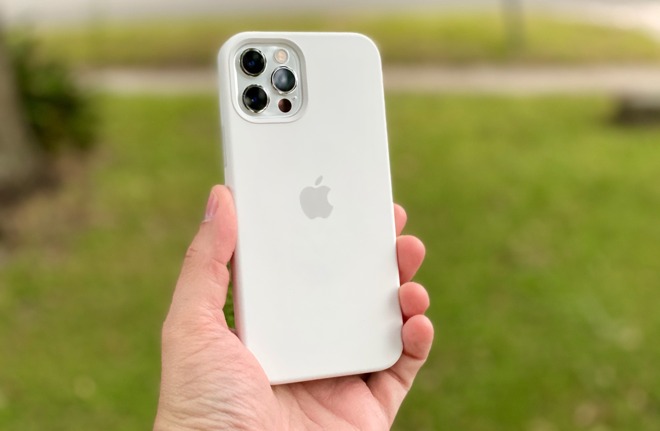 iPhone 12 Pro with Apple Silicon Case
The
iPhone 12
and
iPhone 12 Pro
are out in people's hands, and now it's time to examine the Pro model. It's got the same new hardware design that we've admired on the iPhone 12, but still its unexpectedly larger than the
iPhone 11 Pro
. That case does include the new cameras, though, and we examine those alongside the phone's LiDAR features.
Then Apple may have gone to great lengths touting the new 5G features of the new iPhone 12 line, but Stephen has been searching for anywhere to try AT&T's claimed 5G+ mmWave speeds around Orlando, Florida.
It's hard for anyone to get the promised speeds right now, and that's got to be a reason why you should think carefully about whether it's worth upgrade to a new iPhone 12 Pro. And if you haven't already decided, there's yet another reason to hesitate as a video has emerged of the upcoming
iPhone 12 mini
.
While Stephen is all in on his new iPhone, Wes has chosen instead to examine the new
iPad Air
with its upgraded design, A14 processor and redesigned
Touch ID
button. As with the iPhone 12 Pro, there's another serious comparison to be made before you buy, and this time we compare the new iPad Air to
iPad Pro
to find the noticeable differences between them.
As we get to grips with Apple's new hardware, the company also made several services announcements.
Apple TV+
is renewing Ted Lasso for a third season -- before the second has even finished production -- and Jon Stewart is to host a "Current Events" show on the service.
We'd love to hear your feedback. Tweet at
Stephen Robles
and
Wesley Hilliard
, or
email us here
. Find us in your favorite podcast player by searching for "AppleInsider" and support the show by leaving a 5-Star rating and comment in
Apple Podcasts here
.
Don't forget to subscribe and listen to our HomeKit Insider podcast covering the latest news, products, apps and everything else HomeKit related! Subscribe in
Apple podcasts
,
Pocket Casts
, or just search for
HomeKit Insider
wherever you get your podcasts.
Sponsored by:
Nebia by Moen
: The Nebia by Moen Spa Shower is Nebia's most advanced shower yet. Use code AppleInsider for 15% off sitewide! Visit
nebia.com/appleinsider
to learn more.
Links from the show
Those interested in sponsoring the show can reach out to us at:
[email protected]