Apple imposes strict guidelines on MagSafe accessory makers
Apple's design guidelines for third-party
MagSafe
accessories, which contain extensive regulations that accessory makers must follow, have surfaced online.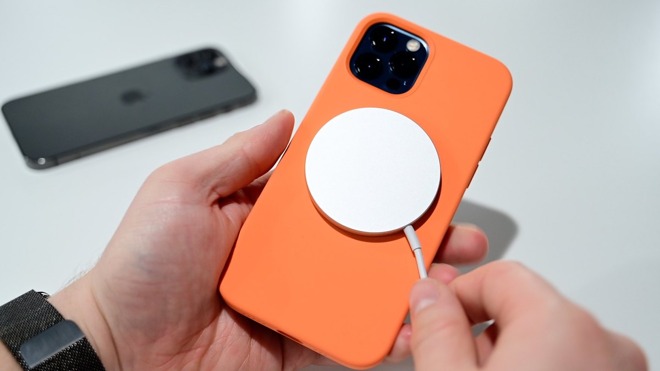 Credit: Andrew O'Hara, AppleInsider
Specific guidelines related to MagSafe were
spotted
in a broader Accessory Design Guidelines document by Twitter user Gustavo Fontana. They occupy a small portion of the in-depth document, but outline some of the stringent guidelines that accessory makers must follow.
For example, the
guidelines
specify which type of magnets that third-party companies must use in order to be MagSafe compatible. They also offer details about the positioning and orientation of the magnets in an accessory.
The specific kind of magnet required is dictated as a N45SH NdFeB with type a specific NiCuNi plating finish.
Cases that are MagSafe-compatible must also enclose a device and be no thicker than 2.1mm (though 2mm is recommended). Additionally, there are specific force requirements for when a user attaches or removes a case.
There are also extensive specifications for orientation, flux density, and magnetic polarity to ensure that MagSafe accessories can properly attach themselves to a compatible device.
MagSafe is a new feature on Apple's
iPhone 12
and
iPhone 12 Pro
devices. It allows for faster wireless charging, but also enables a range of different accessories like cases and snap-on wallets.
Apple requires accessory makers that tout MagSafe compatibility to comply with all of the guidelines. The full PDF document is available
here
, and the MagSafe portion begins on page 82.