Apple, Google hiring special effects masters away from Hollywood to work on AR & VR
Projects such as
Apple AR
are offering more challenges, better working conditions, and greater salaries, for special effects artists than Hollywood studios.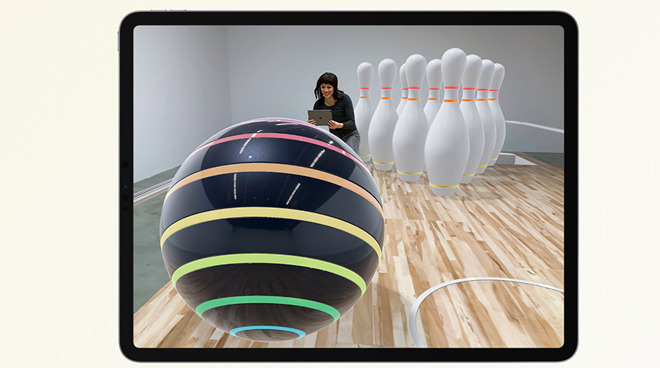 Apple AR can put you into virtual situations, or with virtual characters
While Augmented Reality,
Virtual Reality
and combined Mixed Reality, are really waiting on devices like "
Apple Glass
" before they can become mainstream, they are already proving to be compelling career moves. Special effects artists and technicians are reportedly leaving Hollywood and the whole film industry in order to join technology firms like Apple and Google.
"The difference is, in tech, you are broadly treated more like a human being," an
unnamed artist
told the
Wall Street Journal
. Described as a veteran visual effects artist who has recently quit Hollywood, he's developing AR platforms.
The
Wall Street Journal
names Hao Li, a former head of the Univrersity of Southern California's Institute for Creative Technologies, whose work has been bought by Apple. Li's facial-tracking technology has been used as the
basis of Animoji
, and while he has not joined Apple, reportedly some of his colleagues have.
Similarly, around 2016, Google hired another USC head, Paul Debevec, followed by three of his team. "A lot of the most talented individuals that I've met through the visual effects industry find their way into the tech industry," he told the
Wall Street Journal
. Three of Mr. Debevec's USC team subsequently joined him at Google.
While Debevec is now a professor at the university, during his time at Google, he worked specifically on systems for digital scanning of faces and heads. Called the Light Stage, it's a spherical device with 14,000 lights and in excess of 40 cameras.
This is the system used to create digital scans of actors, including Will Smith in "Gemini Man," and Brad Pitt in "The Curious Case of Benjamin Button."
LiDAR, as including in the iPhone 12 Pro, helps AR build environments that mix real and virtual reality
More recently, Google has built a larger Light Stage which is capable of scanning an entire body. Debevec continues to be associated with the project, working to create digital humans for AR and VR.
Aside from the new challenges in AR, technology companies are investing considerably more than Hollywood to attract talent. One estimate by Accenture PLC, according to the
Wall Street Journal
, is that AR/VR projects see spending of $21 billion in 2020 -- rising to $121 billion by 2023.
Apple's most recent use of AR is
in the invitation
for its
November 10 event
.
Keep up with AppleInsider by downloading the AppleInsider app for iOS, and follow us on YouTube, Twitter @appleinsider and Facebook for live, late-breaking coverage. You can also check out our official Instagram account for exclusive photos.