Apple may keep Apple Stores open during second UK lockdown [u]
Despite the UK government ordering a second
coronavirus
lockdown from Thursday, Apple Stores in the country appear to be planning to remain open in a limited capacity, as they initially did in France's lockdown.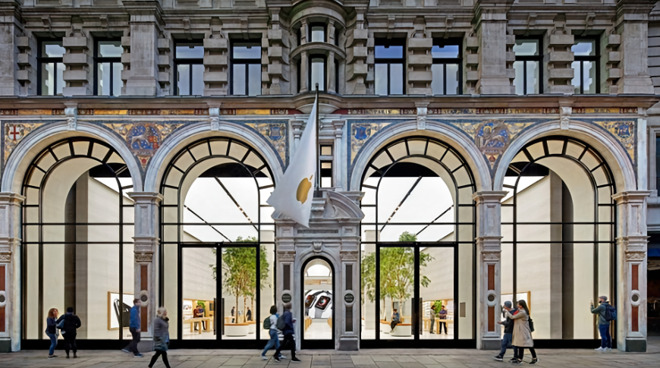 Apple Regent Street, London
From midnight at the start of Thursday, November 5, the UK officially enters a
second lockdown
which means non-essential businesses and venues must close. The UK's published requirements are confusingly contradictory, however, and it appears that Apple may be planning to keep its local stores open in at least some ways.
An anonymous and unverified tip sent to
AppleInsider
originally informed us of this. The tip, purportedly from a UK Apple retail employee, claims staff were informed on Monday.
"Meeting had yesterday," wrote the emailer. "UK stores staying open for APU [Apple Pick Up] & GENIUS BAR."
"Employees deeply upset," continued the email. "Company has shifted safety stance to profit stance. Some Employees being forced to work during Lockdown."
AppleInsider
has reached out to Apple, and got a response saying only that no decision has been made as yet.
Apple was among the first businesses to
close its stores
ahead of the UK's initial lockdown. If it keeps them open this time, it's possible that pickup of online orders could qualify as "click and collect." However, it's harder to see how Genius Bar appointments can remain eligible to be open under the UK government's guidelines.
Those
official instructions
specifically state that "certain businesses and venues" have been ordered to close, although there is still some confusion. Among those required to shut are "all non-essential retail, including but not limited to... electronics stores."
The definition of "non-essential" is very unclear, though. For instance, while the UK government, as expected, lists supermarkets as essential, it now says garden centers are too.
Plus overall, "click and collect services can continue." Also, "workplaces should stay open where people cannot work from home," though the examples given for that are "the construction or manufacturing sectors."
Many of the UK's 38 stores are already showing what they call "special opening hours." However, the only consistency to them is that every one is the same as the stores' regular ones.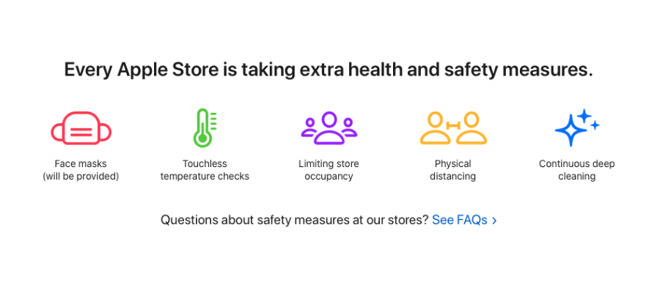 Apple Stores in the UK are operating under the same conditions as in the US
Some are showing Thursday onwards as having these special hours, but others list only Thursday. Some locations have them before Thursday day, and so far all of them resume regular hours at some point.
Eleven stores are specifying that they are currently only open for "pickup of online orders, Genius Support by making an appointment, and shopping by reserving a one-to-one session with a Specialist." Apple's Belfast store remains closed entirely, but otherwise that means 26 stores stating no such limitations -- including the 5 in London.
Separately, France went into a new lockdown as of 21:00 CET on October 29. French journalist Gilles Dounes from
MacPlus
tells
AppleInsider
, though, that Apple Stores were allowed to remain open.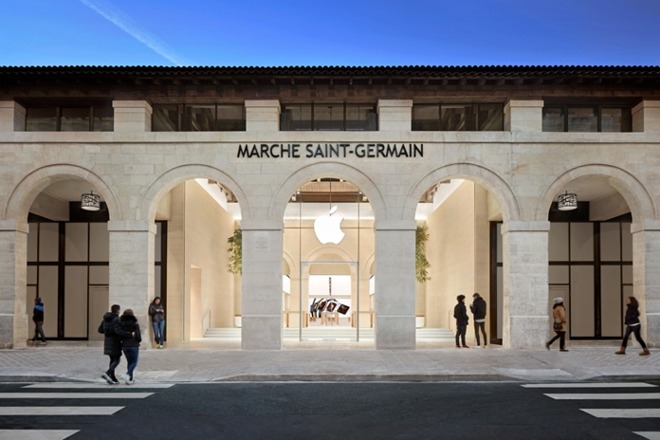 Apple Marche Saint-Germain, Paris
According to the French government's
Decree No. 2020-1310
, "prescribing the general measures necessary" for the lockdown, Apple Stores are considered essential. Listed among some 40 exemptions are two that apply to Apple.
Those are the retail sale of "d'equipements de l'information et de la communication" (information and communication equipment), and "d'ordinateurs, d'unites peripheriques," (computers and peripherals.) One key stipulation is that the sales must be in specialized stores, which means Apple Stores and approved resellers.
This has meant that flagship Apple Stores in Paris have been staying open "by appointment for the collection of your online orders and assistance with our Geniuses." However, worsening conditions in France now mean that all Apple Stores in the country are now closing. Some stores closed today, others will shut tomorrow, but all of them will then remain closed from Thursday 5 November until further notice.
Updated: 11:35 ET with new French closures.