Apple reportedly faces shortage of power management chips for iPhone, other devices
Posted:
in iPhone
edited November 2020
Apple is struggling to obtain steady supply of key power management chips for iPhone and other devices, with the shortfall arriving ahead of the lucrative holiday shopping season.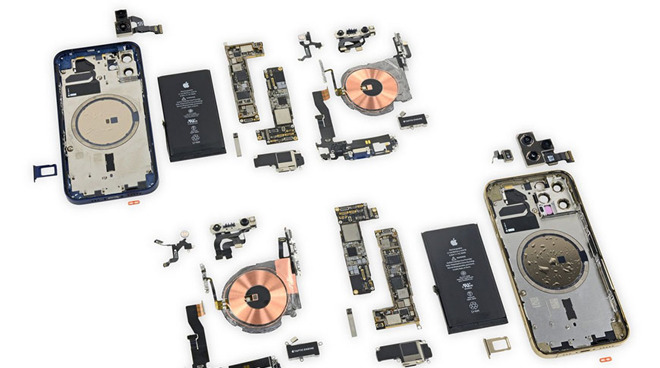 Source: iFixit
Citing sources familiar with the matter,
Bloomberg
reports the
shortage
is in large part caused by trade restrictions and supply chain disruptions stemming from the ongoing coronavirus pandemic.
It is unclear how the parts deficit will impact Apple as the company moves into what is typically its busiest quarter of the year.
The report fails to specify which of Apple's power chip suppliers is seeing constraints, though most produce parts for other companies. A recent
teardown
conducted by iFixit revealed silicon from Texas Instruments, STMicroelectronics and Qualcomm Inc., as well as an Apple-designed part.
Sources claim the parts makers will likely prioritize orders from the Cupertino tech giant, a safe bet considering Apple's market power.
As noted in the report, power management is a crucial component of Apple's
iPhone 12
recipe. Each of the new handsets -- iPhone 12,
iPhone 12 mini
,
iPhone 12 Pro
and
iPhone 12 Pro Max
-- sport power-hungry 5G connectivity.
Apple went so far as to build special hardware and software features for iPhone 12 in attempts to alleviate the inevitable battery drain from 5G. The new "
Smart Data Mode
," for example, automatically toggles cellular connectivity between 5G and slower, but less taxing, LTE networks depending on network speeds and device usage.
Apple released iPhone 12 and iPhone 12 Pro
in October
, with pre-order demand
quickly outstripping
launch supply. The company is due to begin accepting orders for iPhone 12 mini and iPhone 12 Pro Max on Friday.
The report does not make clear what other devices are affected by the chip shortage.