Apple will ship macOS Big Sur on Thursday
Posted:
in macOS
edited November 2020
Apple will be releasing macOS Big Sur on Thursday, enabling existing Mac owners to upgrade to the new version of the operating system ahead of the release of the new
M1
-based Mac range.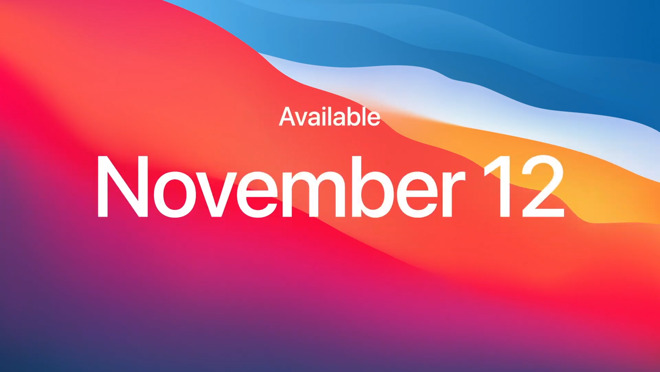 Announced after the reveal of the M1 chip, the new Mac mini, MacBook Air, and 13-inch MacBook Pro, Apple will be providing macOS Big Sur's update for download from November 12. The download will be free to all users, as usual.
The release takes place almost two months after Apple issued iOS 14, iPadOS 14, tvOS 14, and watchOS 7, with it undergoing an extensive beta-testing period. It has undergone ten rounds of testing, with the release candidate issued on November 5.
The delay is likely down to how macOS Big Sur has to cater to both Macs running on Intel processors as well as those using the just-announced Apple-designed M1 system-on-chip. The main goal of macOS Big Sur is Apple Silicon compatibility, but there's also some other changes coming in the version.
Visual design changes include more curvature in window edges, with widgets made to be similar to the iOS 14 designs. Menu items will fade into and out of view depending on if they are needed, while icons will receive design upgrades across the board for Apple's major apps.
The Control Center is also being ported to Mac, with easily-accessible system controls available at a glance. Safari gains a number of design changes, as well as being faster and more secure than previous versions, while the Messages app will be a Mac Catalyst app.