Apple TV+ review: Werner Herzog goes global in ambitious 'Fireball' documentary
"Fireball: Visitors From Darker Worlds," the new documentary from Werner Herzog and Clive Oppenheimer that hits Apple TV+ November 13, arrives highly anticipated.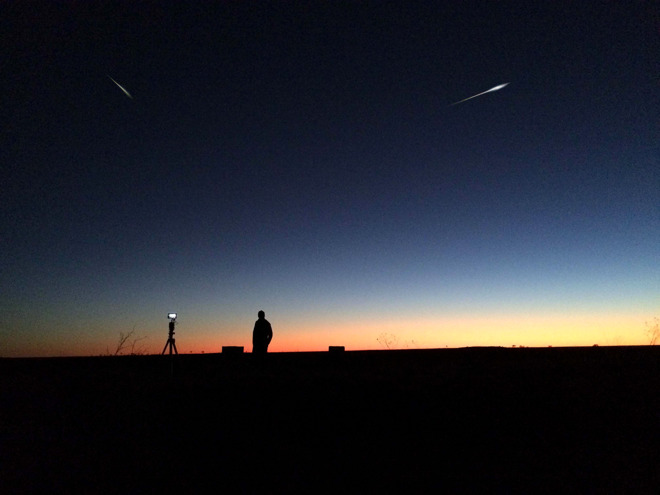 "Fireball: Visitors From Darker Worlds," premiering globally on Apple TV+ on November 13.
When
Nonfics
, a website that covers the world of documentary filmmaking,
made its list
at the beginning of the year of its most long-awaited nonfiction films coming in 2020, editor Christopher Campbell listed Fireball before all others. The only caveat was that he wasn't sure the film would actually arrive in 2020.
Arrive it has, as Apple
announced in July
that it had acquired the film for an Apple TV+ release.
Fireball
is a winning documentary that combines beautiful images with the sort of compelling narration with which Herzog has long been associated.
Fireball
has an outstanding hook. Herzog and Oppenheimer, who are credited as co-directors, travel the world, visiting places that have been struck by meteors, comets and other objects from space, in some cases many years ago.
The duo also explore the religious and cultural traditions in each place that have emerged around these arrivals, while contemplating the possibility that a future object could do even greater damage to the Earth.
All around the world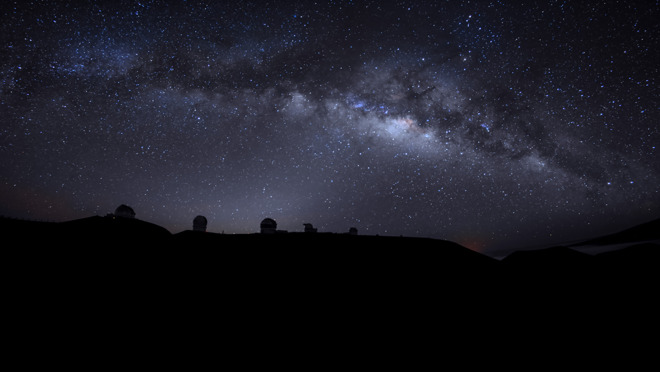 "Fireball: Visitors From Darker Worlds," premiering globally on Apple TV+ on November 13.
It's been said
that Herzog is the only filmmaker in history to have shot on all seven continents, and he visits nearly all of them again in
Fireball
. The film goes everywhere from Mexico to Antarctica to Norway to Hawaii to Australia to even the hajj in Mecca, which is not a place that's often filmed for documentaries.
The filmmakers also visit a lab, in South Korea, which features mostly small meteors that have fallen to Earth.
At each stop, Oppenheimer interviews experts -- who range from charming eggheads like Neil deGrasse Tyson to outright cranks -- while Herzog monologues on the soundtrack, in the meditative, German-accented voiceover that's become his trademark.
Throughout, there's breathtakingly gorgeous cinematography, thanks to Peter Zeitlinger, who had previously shot 14 other films with Herzog, including
Grizzly Man
. This is definitely one that's preferable to watch on a large TV rather than a mobile device.
We're meant to wonder whether some other celestial object will strike us, and the filmmakers even insert footage of the climactic apocalypse in the 1997 action movie
Deep Impact
. That film's director, Mimi Leder, went on to executive produce the Apple TV+ series
The Morning Show
.
The world of Werner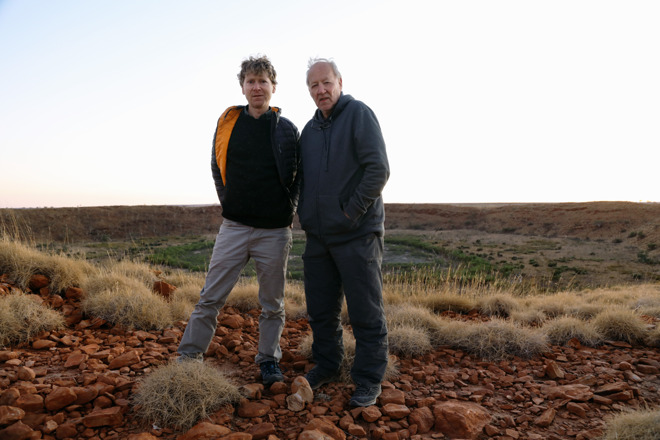 Clive Oppenheimer and Werner Herzog behind the scenes of "Fireball: Visitors From Darker Worlds," premiering globally on Apple TV+ on November 13.
If you're new to Herzog's work, he's a 78-year-old German who has made dozens of films, both fiction and nonfiction, since getting his start in the early 1960s. His best-known films include
Aguirre the Wrath of God
and
Fitzcarraldo
, and 15 years ago he made Grizzly Man, one of the new century's best documentaries. That film told the story of Timothy Treadwell, the man who went to Alaska to live with the bears, and ended up eaten by them.
The filmmaker has also had the occasional viral moment, such as
the time he ranted
about chickens, and even played the villain in the Tom Cruise movie
Jack Reacher
and has an on-camera part in Disney's
The Mandalorian
.
Herzog previously teamed with Oppenheimer, who in his day job is a Professor of Volcanology at Cambridge University, on previous documentaries. The pair have worked on titles like 2007's Antarctica adventure Encounters at the End of the World, and 2016's Into the Inferno, which explored volcanos around the world.
Awards potential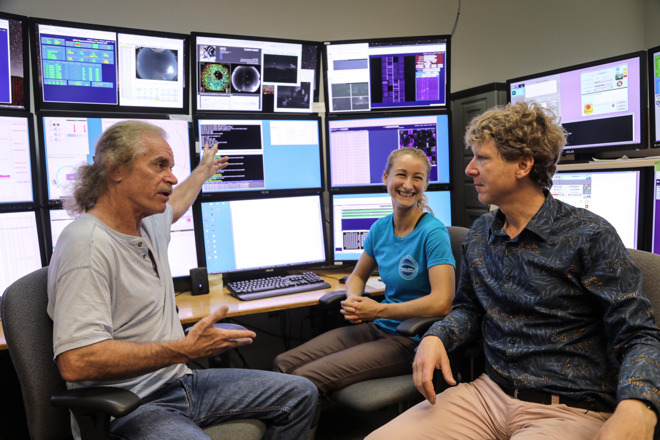 Clive Oppenheimer with Mark Willman and Joanna Bulger at the Pan-STARRS Observatory, Haleakal, Hawaii in "Fireball: Visitors From Darker Worlds," premiering globally on Apple TV+ on November 13.
Fireball
joins an impressive Apple TV+ documentary slate for the year, that also includes
Beastie Boys Story
,
Boys State
and
Bruce's Springsteen's Letter to You
. It seems highly likely that at least one of those will notch a Best Documentary Oscar nomination, and
Fireball
and
Boys State
look like the two favorites.
But even if it doesn't win awards,
Fireball
is a documentary that would seem to lend prestige to Apple's nonfiction efforts. While it seems to have been produced via a collection of production companies prior to Apple's involvement,
Fireball
was probably unusually expensive to produce by documentary standards.
Herzog is exactly the type of filmmaker, and
Fireball
exactly the sort of project that Apple should be getting behind at this stage.