iPhone 12 mini Review: 'Mini' in name alone
Posted:
in iPhone
edited June 2021
Apple's latest attempt at a compact device in the
iPhone 12 mini
has delivered as much of a flagship as the other, larger iPhones.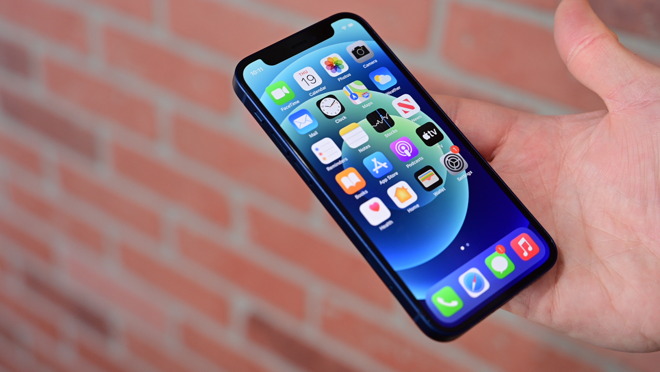 The iPhone 12 mini's size is delightful
Apple's new 2020 iPhone 12 mini, and its 5.4-inch edge-to-edge display, stands in stark contrast to not just Apple's product line, but the smartphone trend as well. The massive
iPhone 12 Pro Max
comes alongside the iPhone 12 mini, which is
almost
Apple's smallest phone ever.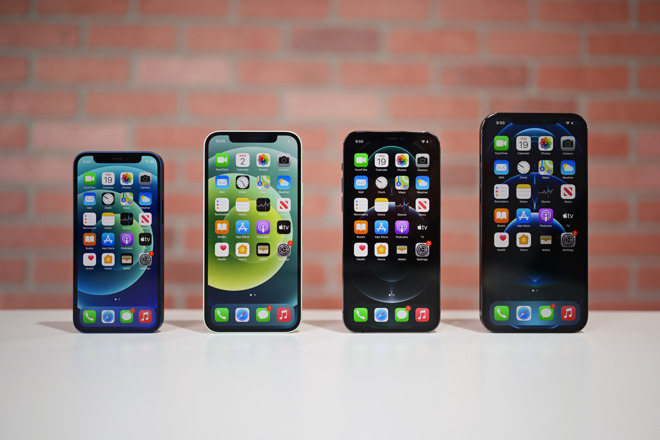 The entire iPhone 12 lineup from the front
Before jumping to the iPhone 12 mini for our review, some context: we are long-time users of Apple's larger
iPhones
. Continuing that trend, we feel that the iPhone 12 Pro Max is a great choice this year -- but more on that next week.
But, there's no reason for folks who prefer smaller phones not to have an iPhone flagship to call their own.
Quick iPhone 12 recap
All
iPhone 12
models share several features in common. Many of our opinions on the upgrades can be found in our iPhone 12 and iPhone 12 Pro
review
. It still is worth a quick rehash of what the new devices have to offer.
Aside from a new look, these new phones all share the incredibly powerful A14 Bionic processor. This chip is at the core of it all and leverages Apple's latest Neural Engine, the four-core GPU, next-gen ISP, two high-performance cores, and four high-efficiency cores.
The iPhone 12 mini has four gigabytes of RAM, paired with 64GB of storage with 128GB and 256GB options. It supports Wi-Fi 6, Bluetooth 5, and of course 5G -- including mmWave in the U.S.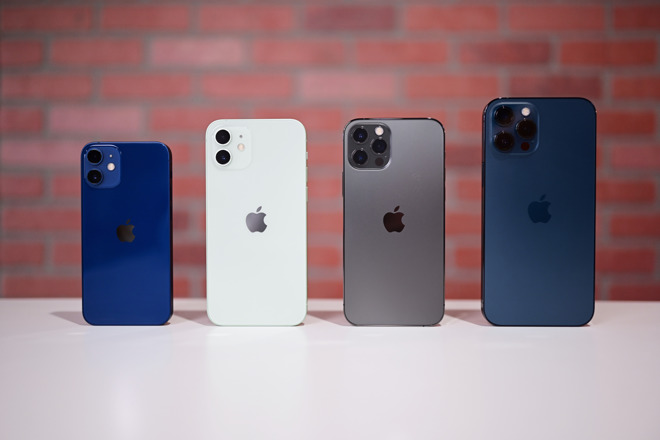 The entire iPhone 12 lineup from the back
There are two 12MP cameras with optical image stabilization. A front-facing 12MP camera is part of the True Depth camera system used for Face ID.
Water resistance has improved for the iPhone 12 family, with the line retaining the IP68 rating but going from four meters to six meters for 30 minutes. The phone is also more drop-resistant than the iPhone 11 line from the new ceramic shield glass technology on the front of the phone that Apple says is four times as protective.
Not only has Apple made the front of the phone more protective, but the back of the phone is more durable too, but not because of any material change. Apple says the new flat sides have improved this durability so that when the phone is dropped, the aluminum frame takes more of the impact instead of the glass.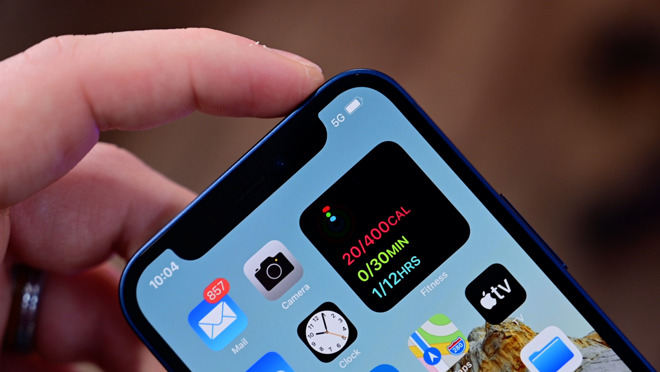 The iPhone 12 mini supports 5G including mmWave in the U.S.
The new design is reminiscent of the iPhone 4. The modernization of that philosophy in its iPhone 12 line is a step forward, making the phones more durable, with a more clean and modern look and feel. It pairs with the latest generation iPad Pro and iPad Air, making Apple's entire lineup feel more cohesive.
All the new iPhone 12 models include
MagSafe
, which is a new way to connect accessories, mount, and charge your phone. We've gone into
exhaustive detail
on this game-changing new feature already, but we are very excited by what is coming down the line. Apple has already introduced wallets, sleeves, cases, chargers for MagSafe, and third parties are also embracing it.
Cameras
The high-end iPhone 12 Pro Max is the unabashed winner in terms of smartphone cameras at the moment, with several noticeable differences over the iPhone 12 mini. But that doesn't mean that iPhone 12 mini's cameras are of poor quality.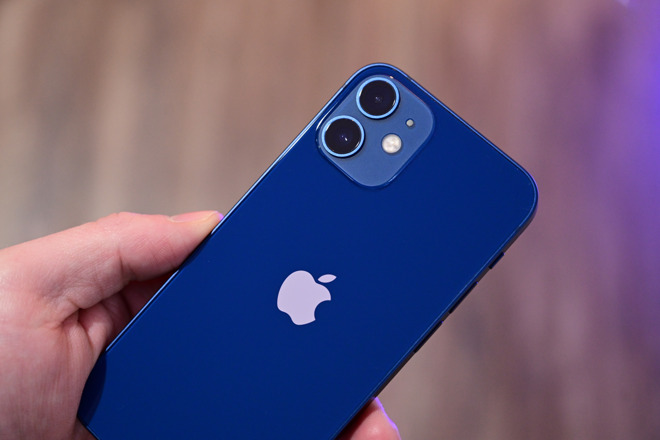 The iPhone 12 mini has a wide and an ultra-wide angle camera
Apple has still boosted the cameras on the iPhone 12 and iPhone 12 mini (which have the same camera setup) from the
iPhone 11
. The aperture has widened slightly on the wide, going from f/1.8 to f/1.6. This allows more light to hit the sensor, yielding slightly better low light photos and increased bokeh. The lens covering for the wide-angle also was upgraded with a new seventh element, which helps ensure edge-to-edge sharpness.
Unsurprisingly, Apple has stuck with 12MP again on both the wide and ultra-wide cameras. Still, Apple has bolstered quality with new software improvements like Smart HDR 3, which aids in identifying scenes to better balance colors, exposure, and other details to match the shot. In our testing with our iPhone 12 and iPhone 12 Pro Max, Smart HDR 3 makes a noticeable difference.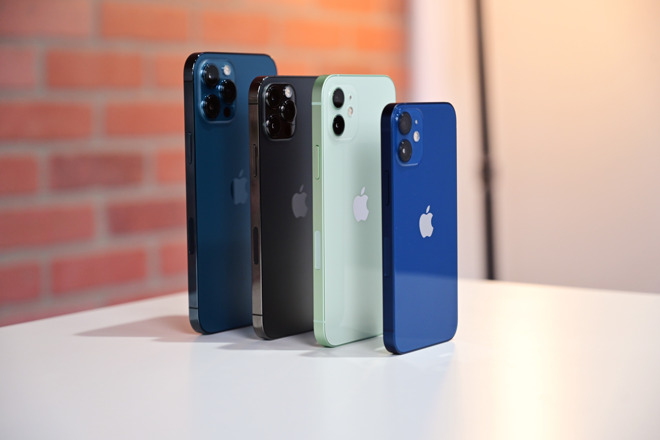 Comparing the size and cameras of all iPhone 12's
Apple's signature photo look is still here, going for more neutral to warm tones in its images, in sharp opposition to the over-saturated Samsung photo profile. The wide-angle is easily the superior camera between the two. Still, the ultra-wide looks better than in years past, including lens correction that fixes some of the curvature and distortion.
Portrait mode is still excellent, and night mode has been a selling feature for the iPhone since it debuted in the iPhone 11 lineup. It is here -- mostly computationally, with some help from the aperture -- on the iPhone 12 mini and can capture some fantastic low-light images.
On the video side, a significant addition is the ability to shoot, edit, and share Dolby Vision HDR video directly on the device. HDR footage looks outstanding and is bright and vivid. 4K Dolby Vision is a step up, whether you're watching on your phone or your TV over
AirPlay 2
. There is a new night mode time-lapse this year too, which works when using a tripod.
While the iPhone 12 mini isn't the best
iPhone
camera, it is just as capable as the iPhone 12 and other than the lack of tele lens, very close to the
iPhone 12 Pro
.
Mini phone, mini compromises
Despite its slight stature, the iPhone 12 mini has few compromises over the other iPhone 12 models. Both the iPhone 12 mini and iPhone 12 pack fewer features than the high-end iPhone 12 Pro and iPhone 12 Pro Max, but that is due to the price point, not its size.
Compared to the Pro, the iPhone 12 and iPhone 12 mini only have two cameras on the back (wide-angle and ultrawide-angle cameras) and lack the telephoto lens. They also lack LiDAR scanners, a stainless steel body, and support for Apple ProRAW photos.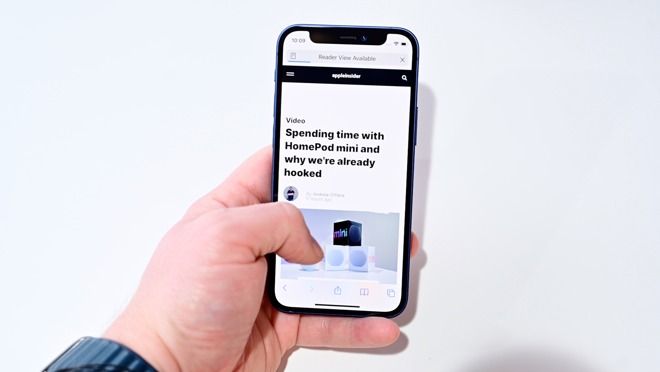 It is easy to use iPhone 12 mini one-handed
They are mildly limited in their Dolby Vision HDR video recording, capped at 30 frames per second rather than 60 frames per second which won't make one bit of difference for most users.
Of everything, the only
real
compromise that we've found with the iPhone 12 mini is the battery life. With its small size, there is physically less room inside for a larger capacity. Between 5G and the more power-hungry processor, it can take its toll on the phone.
Apple says that the smaller device can stream video for an hour less than the iPhone 12. That smaller battery in the smaller device also cuts video watching down by two hours and 15 hours less music playback. Our own testing bears this out.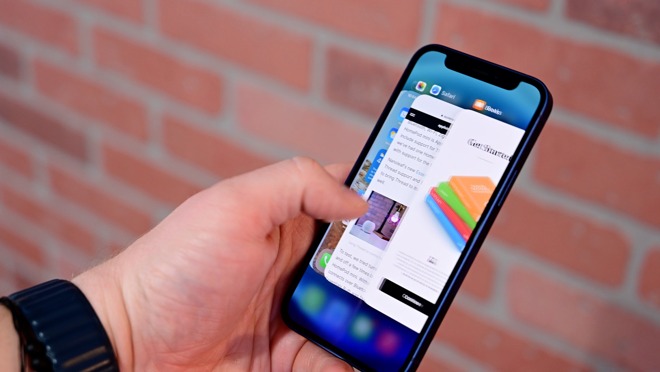 Multitasking is effortless with the A14 Bionic
In our daily use, we were running low by early evening. It was average use -- scrolling on Twitter, reading in News and Safari, and using Messages, but we still struggled to make it from the wake-up alarm to the bedtime warning without some supplemental charges.
We are a bit spoiled but the large battery of our "max" phones, but it still is likely that you will need to charge at some point during the day. The good news is that seems easier than ever now with the introduction of MagSafe, wireless charging, and USB-C to Lightning fast charging to power up.
Another related compromise, MagSafe does charge the iPhone 12 mini
a bit slower
than the other iPhones but the smaller battery makes this less of an issue.
Making the case for the diminutive iPhone
AppleInsider
staff members' opinions vary on the original iPhone SE, depending mostly on migration path. It was a positive move in every regard following a migration from the iPhone 4 or iPhone 5c. But, if you were used to the larger iPhone 6, it was a rough adjustment to the smaller screen size, even with the much better processor. Things have changed since the original iPhone SE.
The iPhone 12 mini has that edge-to-edge OLED display, minimal bezel, and no Touch ID "chin." The overall increase in size from 4.7 inches to 5.4 inches makes a real difference in usability. It very much crosses the line from "cramped" to genuinely usable.
Compared with the larger phones, there is no more stretching our fingers or doing hand yoga to reach the upper corners of the display. It is a perfect phone for one-handed use and a significant improvement over the original iPhone SE -- but it should be, considering that it's been closer to five years than four since that was released.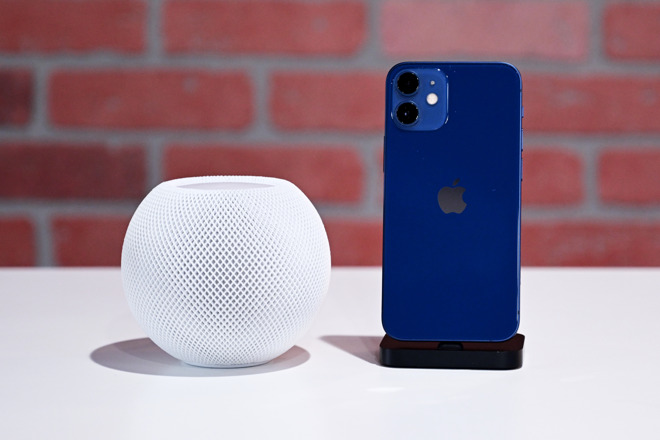 HomePod mini next to iPhone 12 mini
The iPhone 12 and iPhone 12 Pro are a nice middle-ground in terms of size, but even they can require a bit of contorting at times. Those are great mass-appeal screens, but the iPhone 12 mini is so easy to hold, use, and store that it's on a different level. Holding your phone isn't the sole deciding factor in a device, but it is undoubtedly a big one.
In our testing, we let several people try out the phone for varying lengths of time, all with different hand sizes and use cases. Some women were particularly drawn to the phone as its small size opened it to unique fashion options. This phone slides much easier into tight pockets and has a new array of accessory possibilities.
Speaking of one of those accessory options, Apple has a new leather sleeve coming soon for iPhone 12 mini that supports MagSafe and turns the phone into a wristlet. It has a couple of card slots on the inside, protects the phone, includes an optional leather loop, can take calls while the phone is inside, and shows the time with a color-matched background. It may be a perfect combo for specific users.
But, this screen size won't be for everyone. While the iPhone 12, iPhone 12 Pro, or iPhone 12 Pro Max may be too big for someone with small hands, conversely, this phone may be too small if you have large hands. It also takes a little adjusting, since we were accustomed to two-handed typing, we had to re-learn how to type with one hand in a smaller space.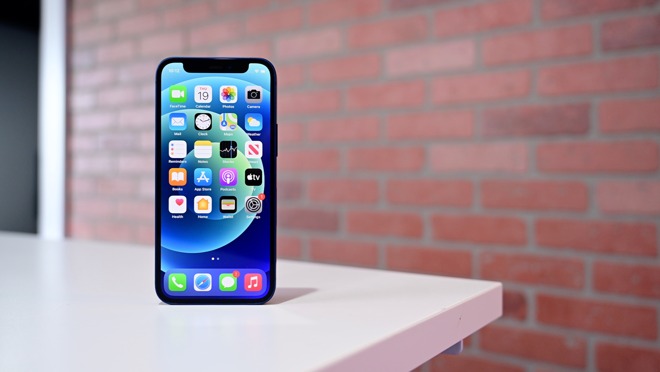 The new iPhone 12 mini
The smaller screen has less area to look at photos, watch videos, read, and surf. For those with eyesight concerns, Apple does make a zoomed mode for the device that makes the entire UI a bit larger, but it won't alleviate those concerns completely. If you want more screen real estate, the upgrade path is clear.
With those concerns out of the way, we can't say enough about this new compact form factor. The size is outstanding, making it a pleasure to hold and use. Apple finally has us betting big on the new mini.
Pros
Small, easy to hold design with fun colors


Improved cameras


Better durability


MagSafe and new accessory options


Fantastic performance from A14 Bionic


Beautiful OLED display


5G support
Cons
No tele lens


Battery life is lacking
Rating: 4.5 out of 5
Where to grab deals on the iPhone 12 mini
Wireless carriers are offering shoppers cash rebates and trade-in promotions on the new iPhone 12 mini, delivering some of the
best iPhone deals
on the popular handset.