Edifier S50DB soundbar review: works great but lacks some key features
The Edifier S50DB soundbar offers extensive compatibility, excellent sound quality, and it looks good to boot.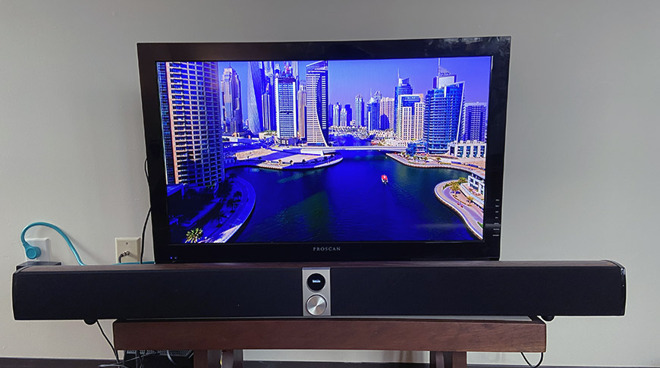 While it won't replace a proper surround sound setup, a good soundbar can vastly improve your TV watching experience. We're taking a look at the Edifier S50DB soundbar, a mid-range soundbar that packs a sonic punch while being incredibly versatile.
Setup and appearance
Setting up the soundbar depends on how you're planning on using it. If you're just going to toss it on your TV stand or entertainment center, you can have it up and running in under five minutes.
If you want the option to mount it to your wall, it comes with a handy mounting bracket. However, this is an exceptionally heavy soundbar -- far heavier than what we had anticipated.
Should you choose to mount it to your wall, take precautions to make sure you use the appropriate mounting hardware for your wall -- and be sure to drill into the studs.
The S50DB is also long -- just shy of four feet in length -- and notably longer than the table we keep our TV on.
Visually, it's a looker too, housed in a dark wooden body that Edifier claims improves the sound quality over something like plastic or aluminum. Instead of featuring a row of buttons on the top, Edifier has opted for a sleek physical dial that can be clicked to cycle through the EQ modes and audio sources and turned to control the volume.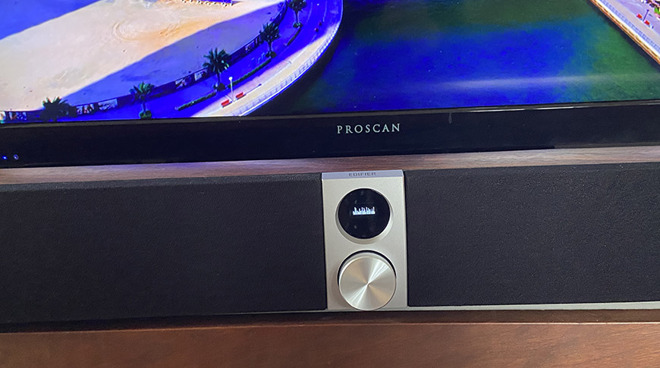 The simple interface harkens back to a simpler time
An attractive circular LCD in the middle allows you to see EQ modes, audio inputs, and volume levels. There's almost something retro or classic about the design, though it's unassuming enough that it should easily fit into most peoples' decor with minimal effort.
Sound and performance
The TV that we tested the Edifier soundbar with is an old one that never had great sound quality to begin with, however the picture is more than serviceable for a household that primarily plays video games. Yet, when we got our first
Apple TV
, we found that we wanted to use it to stream music while entertaining guests or cooking.
Enter the S50DB soundbar from Edifier.
While it may look a little ridiculous on such a short table, the S50DB performs beautifully for streaming music, watching TV shows, or playing video games. There are three different equalizer modes for TV/Movies, news, and music, with each sounding great for their intended uses. We also found the news setting worked incredibly well for catching up on podcasts.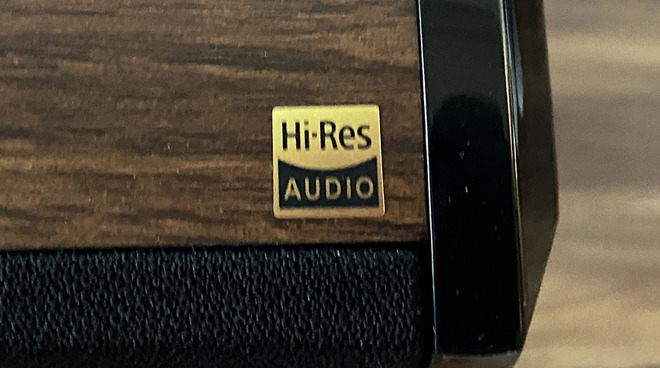 The S50DB features official Hi-Res Audio certification, too
It features 70mm mid-range bass units, which help provide sound that truly fills up a room. Additionally, you can connect a powered subwoofer, which true audiophiles may find as indispensable.
We didn't test this element, mainly because our downstairs neighbors probably wouldn't appreciate a thumping bass.
Edifier has made this soundbar work with a wide variety of inputs as well -- optical, coaxial, line-in (RCA), and a standard 3.5mm auxiliary audio port. This allows the S50DB to be used with various devices such as TVs, set-top boxes, DVD players, even stereos and MP3 players.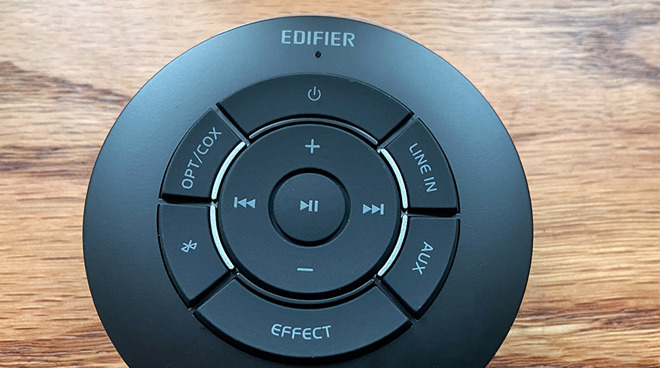 The included remote allows a user to swap between modes without getting up
Lastly, we'd like to point out that Edifier has included a simple remote control for the soundbar, allowing users to quickly swap between modes and control the volume without needing to get up. We found this to be a nice touch.
What it lacks
While we think that the S50DB is an excellent soundbar, it does lack some features of others in its price range.
While it offers plenty of audio inputs, there are a few missing -- namely HDMI. There's also no USB port for music playback, meaning that you'll need to rely on the AUX port for some devices.
There's also no ability to manually set EQ levels, so you're chained to the three preset modes that Edifier has packed into the soundbar. Sure, we would have liked the ability to tweak bass and treble ourselves, or even have a few more presets, but the three that exist do pretty well.
And lastly, there's no
AirPlay
or Chromecast options, either. This wasn't a dealbreaker for us, but we understand that there's likely a subset of users who won't buy a soundbar without AirPlay.
Overall
If you're looking for a high-quality soundbar that should work with what you have, this is an excellent choice that should easily slot into most people's existing setups. There are certainly some features missing that we would have liked to see -- namely an HDMI input -- but the sound quality is excellent and can make you overlook some of the things Edifier left out.
If you're interested in buying your own Edifier S50DB soundbar, you can head over to Amazon and
snag one for $299.
Rating:
3.5 out of 5 stars
Pros
Simple, attractive design


Highly compatible thanks to multiple audio inputs.


Great sound quality


Option to add in a powered subwoofer
Cons
Only three EQ settings and no option to tweak bass and treble


No AirPlay


No HDMI port


Nearly 4 feet in length and quite heavy, requires thought in placement