Apple Watch credited with detecting heart problem in Ohio resident
The
Apple Watch
has been credited with saving another life, with one Ohio resident warned of having a high resting heart rate, which was found to be an atrial flutter.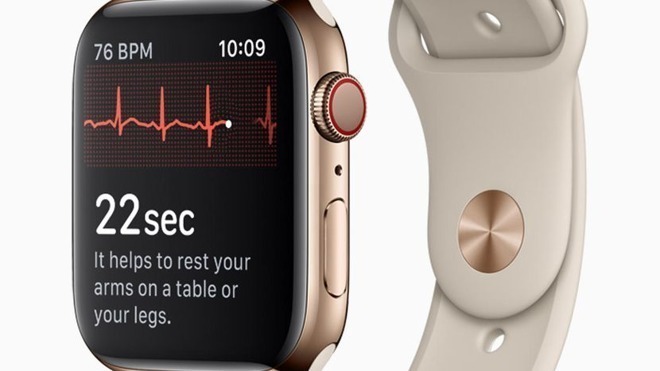 Zachary Zies, a 25-year-old recent graduate from Ohio State University, is a long-time sufferer of Friedreich's Ataxia, a rare genetic disease that can affect the brain, spinal cord, and heart, which can cause impairments in speech and difficulty in walking, among other issues. In a recent incident, an issue with Zies' heart was discovered by the Apple Watch.
Zeis was informed by the Apple Watch he had a high resting heart rate in the region of 210 beats per minute,
reports
NBC24
, an extremely high heart rate and a potential indicator of an underlying health issue. Acting on the notification, Zeis got in contact with his healthcare provider, and underwent an atrial ablation to correct what was determined to be an atrial flutter.
"The Apple Watch was pretty much telling me something is up, and you need to go in and get help to see what's actually wrong," said Zeis. With his heart rate now lower, Zeis believes he is mostly recovered from the episode.
Apple has included a number of features in the Apple Watch to warn users of their pulse, including
irregular heart rhythm notifications
. These notifications also include instances when the heart rate rises above or below predefined levels for extended periods of time when the user isn't working out.
Such notifications have helped save numerous lives over the years, such as an Oklahoma teenager
in 2019
being alerted of a 190bpm heart rate while sat in class, which was later found to be Supraventricular Tachycardia.
In 2018
, a man was alerted to a high heart rate, prompting him to check with doctors and resulting in a diagnosis of atrial fibrillation.
The health benefits of the Apple Watch, including heart rate notifications, fall detection, and the push for users to get fitter, has led to the wearable device being offered as a
promotional item
by some insurers, to try and encourage more customers to live a healthier life.